Algorithm Set to Take Translation Memory Systems by Storm
Algorithm Set to Take Translation Memory Systems by Storm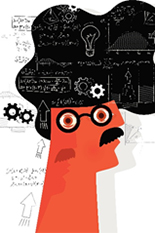 Projected to grow to nearly $39 billion by 2018, the language translation service industry is one to watch.  Population growth, social media, and a global marketplace means that everything is being translated – not just your usual suspects like court records or instruction manuals. Researchers Michael Bloodgood and Benjamin Strauss at the University of Maryland's Center for Advanced Study of Language (CASL) knew that the applications for precise and fast language translation were endless. But how to improve accuracy and speed? With science, of course!
A "translation memory system" stores and remembers words, pulling from a bank that grows with each translated item. An average translator can't know every single word presented to them, particularly in cases where scientific or highly technical terms are being used, so they rely on these systems for help.
If you delve deeper into the heart of a translation memory system, there is an algorithm which serves as a matchmaker between a foreign word and its translation. This "marriage broker" is continually making decisions about which pairings are optimal from the given stock of stored material. The more material, the slower a decision might be made.
Bloodgood and Strauss' algorithm beefs up computer-aided translation software, allowing it to identify more relevant matches and handle larger amounts of data. The result? Their work has already been recognized by translators for its efficiency in finding helpful translation examples for multiple domains and language pairs.
The scientists worked with the Office of Technology Commercialization to disclose their work. Licensing Associate Alla McCoy saw the promise in their invention immediately. "With the world getting more and more flat every day, and with more people having access to the internet, the need for accurate translation of massive amounts of information is high," McCoy said. Sophisticated computer-aided translation like this is filling this gap. 
Bloodgood says "the potential for translation memory technology to reduce the time and cost of professional translation is huge." Strauss agrees. "We are hopeful that our invention can help to revolutionize the industry and reduce the cost of creating quality language translations," he adds.
Bloodgood and Strauss were 2013 University of Maryland Invention of the Year finalists. Learn more about their Translation Memory Retrieval System.
August 26, 2014
Prev
Next