Annual Update Finds that as Economies Recover, Emissions Rebound Too
Annual Update Finds that as Economies Recover, Emissions Rebound Too
The newly released Global Carbon Budget 2021 report, co-authored by Department of Geographical Sciences professors George Hurtt and Louise Chini, as well as adjunct professor Benjamin Poulter, reveals that global carbon emissions are nearly right back to where they were pre-pandemic. In 2020, widespread lockdowns contributed to a 5.4% decrease in global carbon emissions, but 2021 carbon emissions are projected to make up most of that difference and increase by 4.9%. 
"If there was one post-COVID 'return to normalcy' we could have avoided, it would have been great to see our global carbon footprint be one of them," said Hurtt, who is also the department's associate chair. "The data contained in this report make clear the impact of human activity on our environment, and highlight a need for significant improvement at a particularly influential time."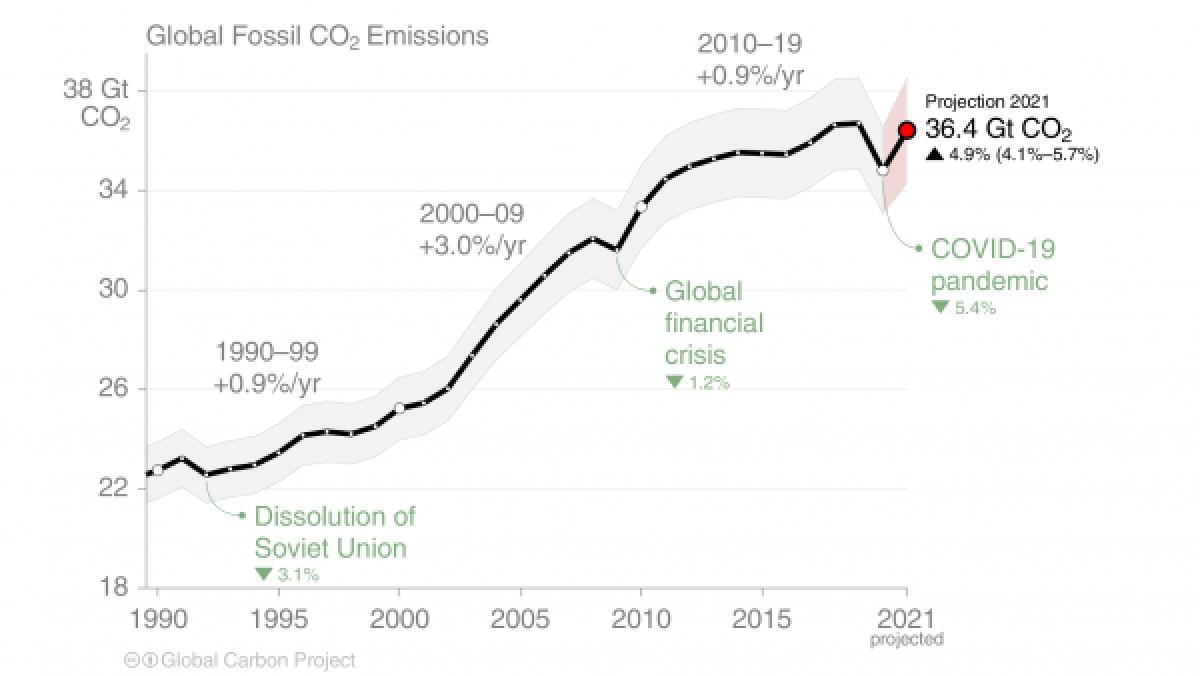 Used with permission of the Global Carbon Project under the Creative Commons Attribution 4.0 International license
The U.N.'s annual gathering of world leaders—and UMD participants—on climate change is still underway. At COP 26, over 20 countries recently agreed to phase out coal by the 2030s and 2040s, but the United States, which the Global Carbon Budget 2021 report finds is projected to see a 7.6% rise in emissions over 2020 and as a result contribute to 14% of global emissions, was not one of those countries.
"The Global Carbon Budget of 2021 is a stark reminder that carbon dioxide emissions continue to increase while shrinking the remaining time to transition to renewables and to a net-zero pathway," said Poulter. "Emissions from land-cover change continue to be the largest source of uncertainty, requiring coordination amongst the observation and modeling communities around the globe."
The greenhouse gases generated by coal-burning are a significant climate change contributor. However, land-use change is another: In the last 10 years—the Global Carbon Budget 2021 report is the 16th iteration—global CO2 net emissions from land-use change were 4.1 billion tons.  
Such data on global land-use-related carbon emissions was made possible by the department professors, by way of the Land-Use Harmonization dataset they annually produce. 
"Emissions from land-use change play a key role in the global carbon budget," said Chini. "Although land-use emissions have been relatively stable in recent years, the high uncertainty in these estimates highlights the continued need for further research in this area."
Additional information on Land-Use Harmonization can be found at luh.umd.edu, and full Global Carbon Budget 2021 report facts and figures can be found at globalcarbonproject.org/carbonbudget.
November 9, 2021
Prev
Next
---
Did You Know
UMD is the only major public research university inside the Washington, DC beltway!!