Art Professor Launches 'Multi-Sensory' Oil Field Experience
Art Professor Launches 'Multi-Sensory' Oil Field Experience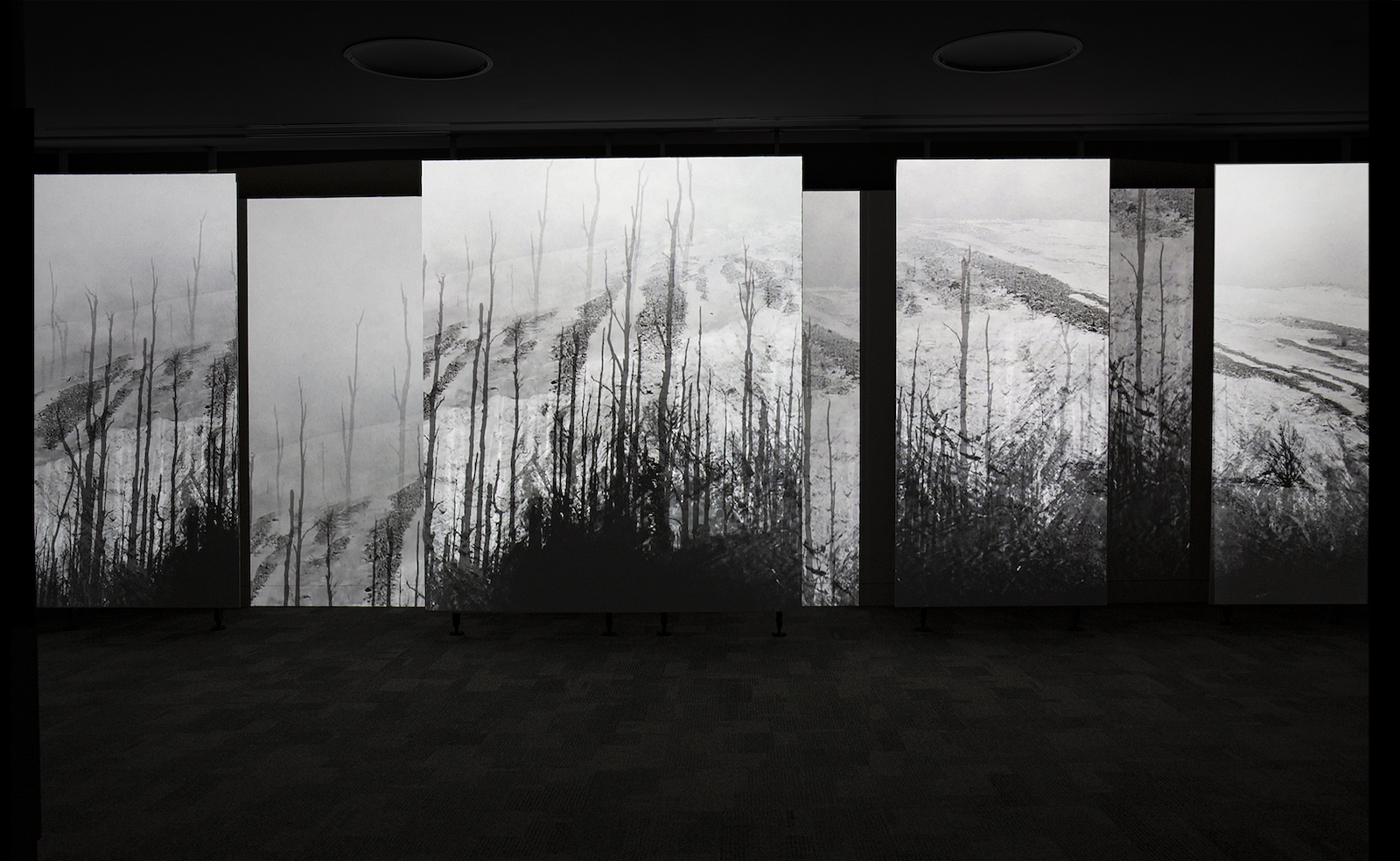 From aboard a fixed-wing Cessna airplane, Associate Professor of Art Shannon Collis got a bird's-eye view of some of Canada's largest mining projects last year. 
That aerial footage—which includes open-pit mines, waste ponds and refineries—is among the elements of her new installation, "Strata," a multi-sensory experience that allows visitors to travel "above and through" the areas surrounding Fort Hills Suncor Oil Sands and Syncrude Oil Plant, the third-largest known crude bitumen reservoir on the planet. That's where millions of barrels of oil are dredged up each day from beneath thousands of miles of boreal forest. 
Presented as a multi-screen projection with surround sound, "Strata" is currently at the Berman Museum of Art at Ursinus College in suburban Philadelphia. "Strata" is a reference to layers in the ground, or what happens when earth is being excavated.
The project "reveals the human imprint on the region and the range of its social, economic and environmental implications," Collis said. "And it invites visitors to contemplate and process these issues at a time of unprecedented environmental urgency." 
Collis, who is from Canada and now lives in Baltimore, was awarded a $10,000 Rubys Artist Grant through the Baltimore-based Robert W. Deutsch Foundation to travel to the oil sands in western Canada in early 2020 to capture digital video, drone cinematography and sound recordings of the area. 
Due to the COVID-19 pandemic, Collis was forced to return to the United States in the midst of her field research. So, she began to explore possible ways to collect footage from afar. She found a number of collaborators in Fort McMurray Aviation and the local YMM Angel Flight Club, who helped her gather additional video footage. 
"I initially felt defeated and disappointed, but I realized that some of the work could be done remotely with the willingness and support from others in the industry and beyond," she said. "I was really excited about this possibility, which opened my eyes to new research methods."
Collis is a faculty member in the new Immersive Media Design (IMD) major at UMD, a unique collaboration between the College of Arts and Humanities (ARHU) and the College of Computer, Mathematical, and Natural Sciences (CMNS), which allows students to learn to create their own immersive media. 
Being forced to shift course in light of the pandemic was a challenge, Collis said. But ultimately, it expands future possibilities both for her and her students. 
"The whole experience has truly redefined the way I think about my research—and the immersive nature of my work," she added. "I think this could make future research richer."
"Strata" is currently only available to a small number of Ursinus students and faculty, but plans are in the works to implement ongoing virtual programming and virtual visits of the gallery space.   
Learn more here. 
Photo courtesy of Shannon Collis.
Original news story written by Jessica Weiss
April 13, 2021
Prev
Next
---
Did You Know
UMD is the only major public research university inside the Washington, DC beltway!!