As Home Remedies Rise, So Does Distrust of Flu Vaccine
As Home Remedies Rise, So Does Distrust of Flu Vaccine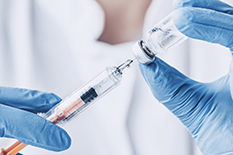 Frequent users of home remedies are less likely to get vaccinated against influenza, according to a new study of racial disparities in vaccination from School of Public Health researchers.
In a nationally representative survey of 819 African American and 838 white respondents, they found that despite the flu vaccine's effectiveness, vaccination rates remain low for both groups: 40.2% for white adults, and only 32.3% for black adults.
Results from the first study to explore the association were published online last week in Preventive Medicine. It was conducted by Jessica Gleason Ph.D. '19, faculty research assistant Amelia Jamison M.P.H. '16 and Professor Sandra Quinn, chair of the Department of Family Science, along with Dr. Vicki Freimuth of the Center for Health and Risk Communication.
Potential reasons for the nearly 8% disparity include racial differences in risk perception, trust and attitudes toward the vaccine, they wrote. But little research has explored the effect of cultural practices like the use of home remedies on these disparities, despite studies that show African Americans are more likely to use home remedies than other racial and ethnic groups.
Among home remedy users, distrust in the effectiveness of vaccines and overestimation of their risks may contribute to vaccine refusal—with these associations increasing based on the degree of home remedy use.
The researchers found that African Americans tended to use home remedies because of family tradition or lack of access to a doctor.
"Historically, in addition to cultural traditions passed down across generations, African Americans have used home remedies out of necessity—they either could not afford or were not allowed access to traditional medicine," Gleason said.
But the researchers found the increased use of home remedies cuts across racial and socioeconomic divides.
"For white Americans, home remedy use has become more popular as the desire to live a 'natural' life has become more popular," Gleason said. "As a result, we see more wealthy, highly educated individuals choosing to use home remedies."
Thus, it's critical that health care providers consider cultural practices when counseling patients for vaccination, and use the findings to tailor advice for people with a preference for home remedies "to allay fears and correct misconceptions surrounding influenza and its vaccine," the researchers wrote.
The study is part of a broader project, "Supplementing Survey-Based Analyses of Group Vaccination Narratives and Behaviors Using Social Media" co-led by Quinn and David Broniatowski, an assistant professor in the George Washington University School of Engineering and Applied Science.
This article originally appeared in Maryland Today.
June 24, 2019
Prev
Next