Bezos Earth Fund Gift of $800,000 Supports Community-Based Air Quality Monitoring
Bezos Earth Fund Gift of $800,000 Supports Community-Based Air Quality Monitoring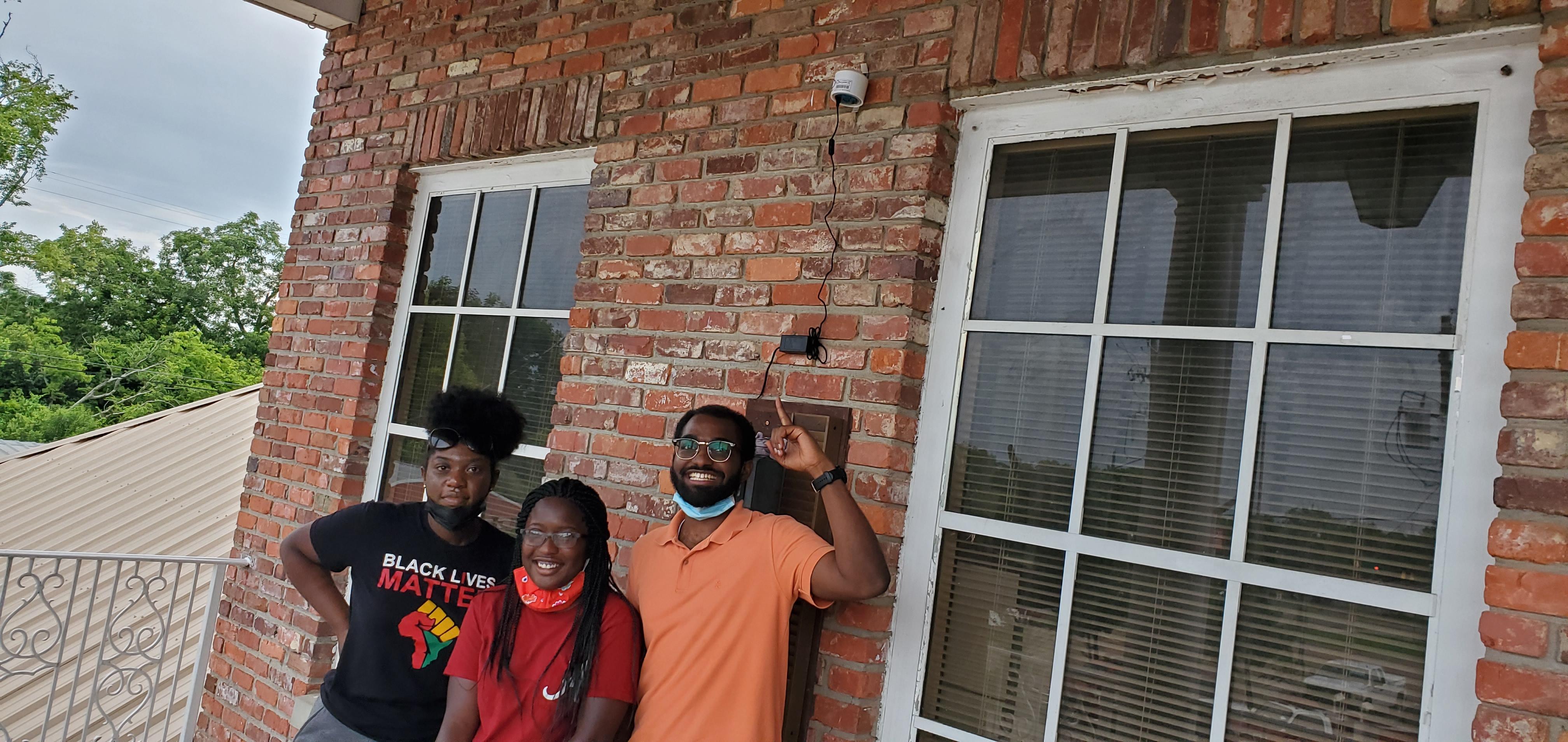 Doctoral student Jan-Michael Archer (on right) points to an air quality monitoring device he installed at a home in Cheverly, Maryland. As part of the CEEJH team, Jan's research focuses on developing community capacity for collecting, analyzing, and visualizing data. This has taken shape in the establishment of hyper-local air quality monitoring networks in several cities, including Cheverly, and the Bezos Earth Fund gift will expand the reach of this work in the region. 
The University of Maryland School of Public Health's Community Engagement, Environmental Justice, and Health (CEEJH) group, has received an $800,000 gift from the Bezos Earth Fund to expand efforts focused on air quality monitoring in communities exposed to traffic-related pollution across the Mid-Atlantic region. With the money that comes from Jeff Bezos's $10 billion commitment to fund scientists, activists, NGOs and other actors that will drive climate solutions, Dr. Sacoby Wilson, associate professor and CEEJH director, and his team will develop a community-based air quality monitoring network that will collect high-resolution information about air pollution and exposure risks through community engagement and community science.
Every day, vulnerable communities across the United States face disproportionate exposure to environmental hazards such as noise, air and water pollution, dilapidated housing and low-quality infrastructure. Stemming from a legacy of racist policies and structural racism, including exclusionary zoning, racial covenants and redlining, these unsafe conditions produce adverse health risks and lower quality of life for people of color.
Dr. Sacoby Wilson has been working for more than 20 years to "INpower" affected communities (a term Wilson uses intentionally to describe helping stakeholders connect to and utilize the power that they already have individually and collectively) and combat environmental injustice as an environmental health scientist and environmental justice advocate.
One focus of his CEEJH work is understanding, measuring and combatting exposure to traffic-related air pollution which can lead to cardiovascular disease, reduced lung function, increased asthma rates, emergency room visits, diabetes and greater overall morbidity and mortality. 
"There is a critical need for community-engaged research that focuses on collecting better data on neighborhood-scale exposures, as well as mitigation policies aimed at reducing inequities," says Dr. Wilson. "Our long-term goal is to reduce air pollution exposure and associated health inequities in communities with EJ issues across the Mid-Atlantic region." 
In addition to increasing the amount of data available to make crucial decisions to improve the health of vulnerable communities, the Bezos Earth Fund gift also allows Dr. Wilson and the CEEJH team to increase the participation of underrepresented groups in science, build their data analysis skills and bolster their trust in science. Armed with data, marginalized communities are better able to advocate for political change that improves their quality of life and advances environmental justice.
December 6, 2021
Prev
Next
---