C. Wang Enters R&D Partnership with Huizhou Eve Energy
C. Wang Enters R&D Partnership with Huizhou Eve Energy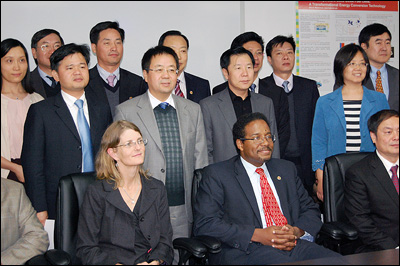 Professor Sheryl Ehrman (front row, left), Dean Darryll Pines (front center), and Associate Professor Chunsheng Wang (center, in light grey jacket) at the signing of the Memorandum of Understanding between Huizhou Eve Energy and the University of Maryland.
University of Maryland Associate Professor Chunsheng Wang (Department of Chemical and Biomolecular Engineering [ChBE] and University of Maryland Energy Research Center [UMERC]) has signed a two-year research and development agreement with Huizhou Eve Energy, one of China's largest companies and its most prominent battery manufacturer.
Wang and his research group will work to perfect a novel process that will be used to improve the company's lithium-ion and sodium-ion batteries. The ultimate goal, says Wang, is to create smaller batteries with higher power densities and long shelf lives.
"Before, our group's main focus was on the fundamental research," says Wang. "We are happy to work with Eve Energy, because it means we can directly link our technology to practical application. We want to see our research benefit society and the battery field."
Eve Energy is headquartered in Huizhou, Guangdon Provence, China. Huizhou is a designated Zhonghai National High-Tech Zone, and is considered to be among the country's most livable and beautiful cities. It is also the home to China's top electronics brands and the Chinese offices of many Fortune 500 companies, such as Coca Cola, Sony, and Siemens.
The event was attended by a delegation of Huizhou City officials, including its mayor, Jiaomeng Mai; a Maryland delegation including Wang, Clark School Dean Darryll Pines, ChBE Professor and Chair Sheryl Ehrman, UMERC Director Eric Wachsman, and members of the university's Office of Research and Association of Chinese-American Professors & Scientists. Also in attendance were representatives from the National Council of Chinese Americans (NCCA) in Washington, D.C., who introduced Eve Energy to Wang through its Zhongkai Overseas R&D Program. The program helps companies in the High-Tech Zone establish relationships with targeted labs in the United States to facilitate joint research, technology transfer, commercialization, marketing, and investment.
Huizhou City Delegation:
Mr. Mai/Jiaomeng, Mayor, Huizhou City, China;
Mr. Wang/Sheng, Vice Mayor, Huizhou City;
Mr. Huang/Zhizhong, General Secretary, Huizhou City;
Mr. Tang/Yuliang, Deputy Chief of Staff, Huizhou City;
Mr. Chen/Guiyun, Vice Chair for Refinery, China National Offshore Oil Corp.;
Mr. Yang/Pengfei, Chief, Huizhou Zhongkai National Hi-tech Zone;
Mr. Huang/Weicai, Chief, Huizhou Daya Bay National Economic Development Zone;
Mr. Hu/Siping, Chief, Huiyang District of Huizhou;
Mr. Hu/Jianbin, Chief, Huizhou Bureau of Development & Reform;
Mr. You/Shuisheng, Chief, Huizhou Bureau of Treasury;
Mr. Rong/Huiliang, Chief, Huizhou Bureau of Revenues & Taxation;
Ms. Liu/Qiaohui, Chief, Huizhou Bureau of Foreign Affairs;
Mr. Cheng/Xiangdong, Deputy Director, Bureau of Science & Innovation of Zhongkai
Mr. John Wu, VP North America, Huizhou Eve Energy Co. Ltd.
Local Hosts:
Mr. Eric Chapman, Assistant Vice President for Research Development, University of Maryland (UMD);
Dr. Monique Anderson, Assistant Director, Office of Research Administration, UMD;
Professor Darryll J. Pines, Dean and Nariman Farvardin Professor of Aerospace Engineering, A. James Clark School of Engineering, UMD;
Professor Sheryl Ehrman, Keystone Professor and Chair, ChBE, UMD;
Professor Chunsheng Wang, ChBE, UMD;
Professor Nan Jiang, President, ACAPS at UMD, and faculty members of the ACAPS;
Dr. Phillip Chen, Director, NCCA Center for Education Science & Technology and Zhongkai Overseas Liaison Office.
Related Articles:
Reversible Chemistry Clears Path for Safer Batteries
Kofinas Awarded Patent for Flexible Batteries
You'll Never Be-Leaf What Makes up This Battery
UMD Partners with Army to Launch Extreme Battery Research Center
Room To Move: Spacing Graphite Layers Makes a Better Battery Anode
A Battery Made of Wood?
December 16, 2013
Prev
Next
Did You Know
UMD is the only major public research university inside the Washington, DC beltway!!