Celebration Honors Scholarship, Research Excellence
Celebration Honors Scholarship, Research Excellence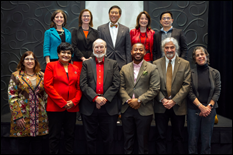 More than 200 University of Maryland researchers and scholars were honored at the inaugural Maryland Research Excellence Celebration on February 28, 2019. 
Co-hosted by Senior Vice President and Provost Mary Ann Rankin and Vice President for Research Laurie E. Locascio, the program held at the Hotel at the University of Maryland recognized the distinct, high-impact accomplishments of the campus' scholarship and research community.
The guests of honor were nominated by their college and school deans for demonstrably elevating the visibility and reputation of the university through transformative findings, achievements with evident societal impact, recognition by national or international groups, high-impact publications and significant external research funding."The creativity and ingenuity of our faculty have propelled our university's profile as a preeminent institution for research and scholarship," Locascio said.
The Division of Research also announced the winners of its 5th Annual Research Communicator Impact Award, created in 2015 to recognize faculty members who proactively communicate their scholarship and research findings or opinions on research issues with the greater public.
The faculty cited in media category recognizes faculty who were quoted or referenced in several articles of in multiple, high-impact news outlets. The winner in this category is Lilliana Mason, assistant professor in the Department of Government and Politics in the College of Behavioral and Social Sciences. Her recent research is transforming the way we think about partisanship, and it is doing so in an environment of deepening conflict and incivility. In addition to being cited by high-impact media outlets like Vox, Science Magazine, the Washington Post, the Economist, and the New York Times, to name a few, Mason's research was the subject of several podcasts, and radio and broadcast interviews.
The op-ed category highlights those who have authored opinion, editorial, and thought pieces in prominent news outlets. Sahar Khamis, associate professor of communication in the College of Arts and Humanities, received the award in recognition of the multiple op-eds she authored in 2018, in which she shared her expertise in Arab and Muslim media. Following the murder of Saudi journalist and Washington Post columnist Jamal Khashoggi, she wrote an op-ed for The Conversation, titled "Jamal Khashoggi's murder finally brings media attention to the plight of Arab world's exiled critics." This op-ed led Khamis to publish more opinion pieces, sparking media attention and interviews by several outlets.
The new media category recognizes faculty who have produced videos, blogs, radio segments, podcasts, and other works of new media. The winner of this category is Patrick Warfield, associate professor in the School of Music in the College of Arts and Humanities. To help commemorate the centennial of the first World War, Warfield – a musicologist – presented research on music's transatlantic impact at conferences and in scholarly articles. He then transformed this scholarship to curate and narrate three free performances in the Washington, D.C., area, culminating in a final concert featuring members of the Washington National Opera's young artist program at the Kennedy Center's Millennium Stage.
View images from the Inaugural Maryland Research Excellence Celebration: https://go.umd.edu/2019MREC
The following is a list of all honorees celebrated at the Inaugural Maryland Research Excellence Celebration. An asterisk denotes special recognition, based on selection by each college or school dean, as an "Exemplary Researcher."
College of Agriculture and Natural Resources
Anna Alberini
Georgiy Belov
Jing Cai
Robert Chambers
Richard Kohn
Stephanie Lansing
Paul Leisnham
Masoud Negahban-Azar
Daniel Nelson
Utpal Pal*
Mitchell Pavao-Zuckerman
Abani Pradhan
Yiping Qi
Shaik Rahaman
Meiqing Shi
Chad Stahl
Bhanu Telugu
Rohan Tikekar
Vijay Tiwari
Kate Tully
School of Architecure, Planning and Preservation
Ariel Bierbaum
Casey Dawkins
Ronit Eisenbach
Marccus Hendricks*
Ming Hu
Willow Lung-Amam
Madlen Simon
Jeremy Wells
College of Arts and Humanities
Linda Aldoory
Luka Arsenjuk
Mary C. Sies
Tita Chico
David Driskell*
Kenneth Elpus
Jason Farman
Julie Greene
Piotr Kosicki
Xiaoli Nan
Valerie Orlando
Juan Carlos Quintero-Herencia
Saul Sosnowski
Matthew Suriano
Janelle Wong
Ruth Zambrana
Robert H. Smith School of Business
Rajshree Agarwal*
T. Leigh Anenson
Michael Ball
Margret Bjarnadottir
Trevor Foulk
Michael Fu
Guodong Gao
Lawrence Gordon
Peng Huang
Pallassana Kannan
Albert "Pete" Kyle
Rellie Rozin
Yajin Wang
Bo Zhou
College of Behavioral and Social Sciences
Feinian Chen
Ralph Dubayah*
Leila De Floriani
Judith Freidenberg
Matthew Hansen
Sebnem Kalemli-Ozcan
Frauke Kreuter
Andrea Lopez
Lilliana Mason
Nan Ratner
Joseph Richardson
Stella Rouse
Sally Simpson
Alexandra Tyukavina
College of Computer, Mathematical, and Natural Sciences
Jacob Bedrossian
Charon Birkett
Alberto Bolatto
Kan Cao
Andrew Childs
John Dickerson
Bill Fagan
Sinead Farrell
John Fourkas
Megan Fritz
Eric Haag
Kelly Hamby
David Jacobs
Patrick Kanold
Jonathan Katz
Sujay Kaushal
William Lau
Max Leiserson
Dave Levin
Xin-Zhong Liang
Zhongchi Liu
Christopher Monroe*
Lee Mundy
Betsy Quinlan
Ross Salawitch
Peter Shawhan
Anne Simon
Ian Spielman
Sergei Sukharev
Brian Swingle
Lai-Xi Wang
YuHuang Wang
Xiaolei Zou
College of Education
Natasha Cabrera
Ellen Fabian*
Sharon Fries-Britt
Gregory Hancock
Ethan Hutt
Brenda Jones-Harden
Robert Lent
Peter Leone
Yang Liu
Julie Park
Megan Peercy
Campbell Scribner
Janet Walkoe
David Weintrop
A. James Clark School of Engineering
Akua Asa-Awuku
Behtash Babadi
James Baeder
Olivier Bauchau
Cinzia Cirillo
Alisa Clyne
Siddhartha Das
Allen Davis
Michael Gollner
Mohammad Hafezi
Jin-Oh Hahn
Christine Hartzell
Liangbing Hu*
Steve Jay
Christopher Jewell
Anya Jones
Alireza Khaligh
Teng Li
Michael Ohadi
Michael Pack
Srinivasa Raghavan
Giuliano Scarcelli
Yasser Shoukry
Elisabeth Smela
Peter Sunderland
Ichiro Takeuchi
Alba Torrents
Eric Wachsman
Chunsheng Wang
Lei Zhang
Marina Leite
Jeremy Munday
Edo Waks
College of Information Studies
Jordan Boyd-Graber
Joel Chan
Eun Kyoung Choe
Niklas Elmqvist
Jennifer Golbeck
Bern Jordan
Hernisa Kacorri
Amanda Lazar
Jonathan Lazar
Richard Marciano
Doug Oard
Mega Subramaniam
Gregg Vanderheiden*
Jessica Vitak
Philip Merrill College of Journalism
Sandy Banisky
Susan Moeller
Sean Mussenden
Deborah Nelson
Sarah Oates
Linda Steiner*
School of Public Health
Bradley Boekeloo
Michel Boudreaux
Jie Chen
Kerry Green
Sunmin Lee
Amy Lewin
Donald Milton
Quynh Nguyen
Steven Prior
Lesliam Quiros Alcala
Jennifer Roberts
Dylan Roby
Amy Sapkota*
Carson Smith
Julia Steinberg
Marie Thoma
School of Public Policy

Douglas Besharov
Rosina Bierbaum
Toby Egan
Susan Esserman
Nancy Gallagher
Nathan Hultman
William Lucyshyn
David Mussington
Susan Parker
Anand Patwardhan
Lucy Qiu
Luke Spreen
Joannie Tremblay-Boire
Kathleen Vogel
Peter Reuter*
March 6, 2019
Prev
Next