Chief Innovation Officer Julie Lenzer Selected as Honoree for 2019 Women Who Mean Business Awards
Chief Innovation Officer Julie Lenzer Selected as Honoree for 2019 Women Who Mean Business Awards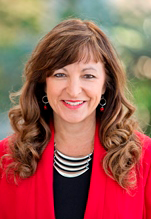 The University of Maryland's Chief Innovation Officer, Julie Lenzer, was selected by the Washington Business Journal as an honoree for the 2019 Women Who Mean Business awards program.
Now in its 16th year, the annual Women Who Mean Business awards recognize the region's most influential women. Honorees represent women from every industry and profession who have made a difference in their communities and are leaving a mark on Washington, D.C.
Honorees are selected by a panel of judges comprised of Women Who Mean Business alumni and Washington Business Journal staff. The final honorees are chosen based on criteria including commitment to community service, strong leadership skills and continuing success in their field.
These C-suite, executive level business professionals and entrepreneurs represent the tops of their respective fields and stand out for their dedication in their careers, their philanthropic efforts, and their personal lives. 
These women join an alumni group that includes Valerie Camillo, formerly of the Washington Nationals; Nicky Goren of the Meyer Foundation, Sheila Johnson of Salamander Hotels and Resorts, Sachiko Kuno of Sucampo Pharmaceuticals, Jodie McLean of Edens, Susan Tynan of Framebridge, Virginia Ali of Ben's Chili Bowl and more.
A full profile on each woman will be published in the Washington Business Journal online and in print Oct. 4. They will be honored at an event at the Mandarin Oriental hotel in Southwest D.C. Oct. 3.
As Chief Innovation Officer, Julie Lenzer fosters and supports UMD's innovation, entrepreneurship, and technology commercialization enterprise, including the development of the UMD's Research Park, the Discovery District, and the Greater College Park initiative. She also promotes and facilitates university-wide collaboration to launch startup ventures based upon University intellectual property, as well as providing support for entrepreneurs and small business across the state through Mixed/Augmented/Virtual Reality Innovation Center (MAVRIC), the Maryland Small Business Development Center (SBDC) and the TechPort incubator in St. Mary's County.
August 28, 2019
Prev
Next