Different Viruses, Similar Outcomes
Different Viruses, Similar Outcomes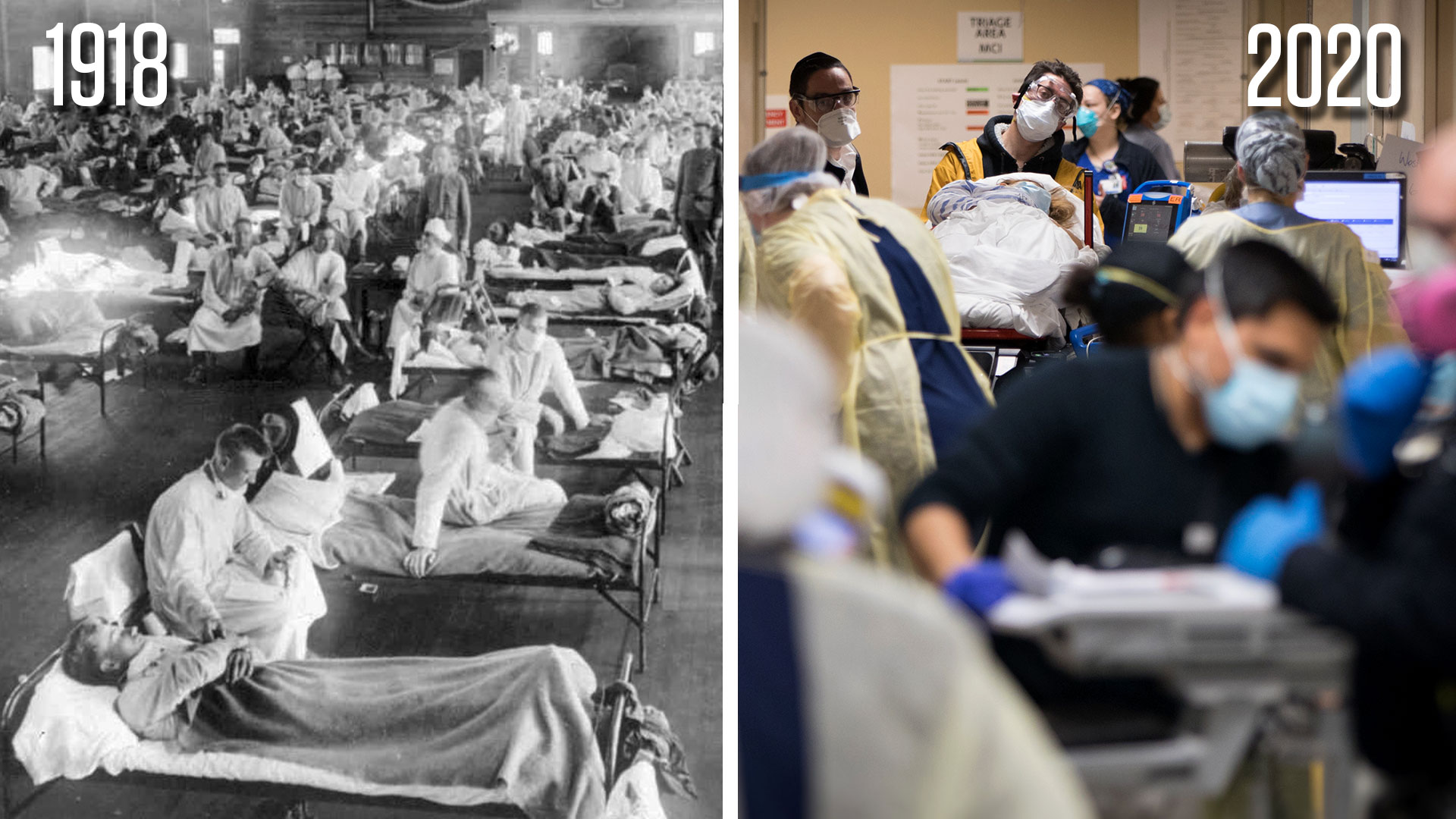 Authorities shrugging off risk—or ordering everyone to mask up. The virus surging in locales that dropped their guards too soon. Death rates that cut along racial lines, impacting African Americans with particular ferocity.
What might sound like recent news stories from the COVID-19 pandemic describe the 1918 influenza pandemic just as well, according to a new study from a University of Maryland researcher, published this week in the International Journal of Environmental Research and Public Health.
Jennifer D. Roberts, assistant professor of kinesiology, found that despite leaps in science, technology and civil rights, the United States didn't appear to learn much from the earlier pandemic.
"Even though it's been more than 100 years, what we found is that the response to these two pandemics was very similar, in terms of public health being the first line of defense—you saw the orders to separate and create social distance, orders to wear face coverings; schools, churches and theaters were shutting down," said Roberts, who wrote the paper with Shahdi O. Tehrani, a student of architecture and environmental design at the Iran University of Science and Technology, Tehran.
But reactions varied widely by locale, she said. One table in the paper shows how influenza peaked across a number of U.S. cities: Those that responded quickly to impose social distancing, like Milwaukee and Minneapolis, saw a small initial peak for the virus, followed by similarly modest second peak over the course of 24 weeks. Places like Washington, or particularly Philadelphia, that failed to effectively respond to the pandemic experienced a massive surge of deaths. But in St. Louis, which initially excelled at stopping the virus, people weary of the lockdown grew overconfident, and emerged to create a larger second peak of flu deaths.
The recent resistance to safety measures, or speed in casting them off, in some pockets of the country shows that people haven't changed, Roberts said.
"We can't accurately predict what those curves (from the current pandemic) are eventually going look like, but it makes you wonder about the ability to learn lessons from the past," she said.
Roberts specializes in studying the interplay of health outcomes, built environments and transit systems and socioeconomic and racial inequalities. Perhaps the most dramatic tie-in between the two pandemics, she said, was its disparate effect on majority populations compared to racial minorities, and particularly the African American populations of cities hit hard by the pandemic.
Likely because African Americans in 1918 lived overwhelmingly in rural areas where the flu spread less efficiently, their mortality rate was generally lower compared to the overall U.S. population, Roberts said—but the pandemic also coincided with a time of increasing Black urbanization as people migrated from the American South to cities nationwide in search of better lives. When they arrived, the paper says, "the First Great Migration left a large portion of African Americans in cramped, dilapidated, impoverished and segregated conditions with less access to sanitation and urban social programs in northern cities."
The resulting problems afflicting urban African Americans—for example, an elevated tuberculosis rate—created conditions that made the flu more dangerous. As a result, the African Americans who contracted it were significantly more likely than white Americans to die: 10.2% vs. 6.8%, respectively, among soldiers and 3.4% vs. 2.1% for civilians. Eventually, an estimated 650,000 U.S. residents died of the virus.
By contrast, in the current pandemic, the African American mortality rate is 2.3 times that of white Americans, according to APM Research Lab, while the U.S. Centers for Disease Control and Prevention says the non-Hispanic Black hospitalization rate is about five times that of non-Hispanic white rate.
The effect of chronic illnesses remains a common denominator between the pandemics, although the illnesses may have changed, said Marccus D. Hendricks, an assistant professor of urban studies and planning who was not part of the current study, but whose research explores similar themes linking public health with the development of urban environments.
"With COVID, you see the compounded effect of the emergence of a novel virus on top of chronic illnesses that have manifested over the last 40 to 50 years," said Hendricks, who was selected along with Roberts as a JPB Environmental Health Fellow at Harvard. "Chronic illnesses—particularly related to heart disease and diabetes—have affected American society as a whole, white folks included, but with any kind of disaster, you expect the most-marginalized communities to be affected the most."
Modern-day dynamics ranging from inadequate and discriminatory health care services available to African Americans to their higher prevalence in essential jobs that force contact with others echo those of a century ago, Roberts said.
"The strongest thread we found between both pandemics was inequality," Roberts said, pointing to the paper's conclusion that racism in the United States has created unequal access to healthcare, housing, wealth, education and employment, all of which are social determinants that can promote or undermine one's health and longevity.  "Because of this inequality, there is a big difference in how well people can protect themselves from the virus, and a big difference in what happens to you if you contract it."

(Original news story written by Chris Carroll)
June 26, 2020
Prev
Next
---