Equal Protection, From Floods
Equal Protection, From Floods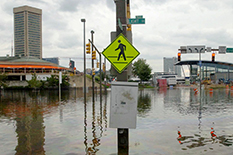 Massive flooding and environmental health risks followed hurricanes Harvey and Maria in 2017, catching the attention of an Honors College student research team that resolved to find ways to shield vulnerable Maryland communities from similar outcomes.
So the Gemstone Honors Program team known as E-Justice began studying flood risks—including how it's exacerbated by sea level rise along the Maryland coast—and reviewing emergency plans to check how prepared Maryland communities are. A key focus was on what municipalities, particularly Baltimore, are doing to protect at-risk populations.
"Environmental justice is a widespread issue," said Shifali Mathews '20, a public health science major responsible for the team's comparative analysis of preparedness planning. "With the impacts of climate change recently, especially flooding from different hurricanes and other natural disasters, there's been a need to research the ways that people are being treated through policy."
The 10-member team looked for environmental justice concerns using geographic information system (GIS) maps that displayed a range of data: pollution sources, demographics, flooding and storm surge statistics throughout the state.
"Some of these flood-prone areas also tend to have low-income and minority populations, and there are also some toxic waste sites in the mix here," said Joanna Goger, senior lecturer with the Environmental Science and Policy Program and team mentor. "So you have a situation in which communities that are already vulnerable are exposed to significant environmental risk that could be made worse by flooding."
The GIS data pointed them to several hotspots in Baltimore, each of which combines high socio-economic vulnerability, flood risks and environmental risks. The team is now reviewing the Emergency Planning and Community Right-to-Know Act (EPCRA) plans in Baltimore City and Baltimore County and comparing them to plans across the state to see if they adequately address all three risk factors.
Many communities haven't done the necessary planning to allow them to deal with the chemical and other environmental risks that accompany flooding, said environmental science and policy major Candela Cerpa '20.
The Gemstone team plans to develop surveys for local government officials and residents in Baltimore. They hope to use this data, along with an analysis of GIS maps and local policies, to help spur policy changes to protect communities vulnerable to flooding.
"We hope by the end of it to have concrete recommendations for changes to policy," said Mathews. "We would give those recommendations to local governments so that they can either improve their plans or include more of the community needs within it and essentially address environmental justice within the plans themselves."
This article originally appeared in Maryland Today.
January 31, 2019
Prev
Next