Espy-Wilson Featured in MIT's Tech Review
Espy-Wilson Featured in MIT's Tech Review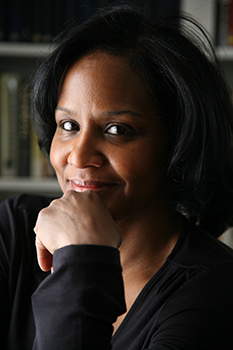 MIT featured Carol Espy-Wilson, a faculty member in the Department of Electrical and Computer Engineering and the Institute for Systems Research at the University of Maryland (UMD), in the November/December issue of MIT Technology Review for her expertise in both academia and industry. She is also an alumna of MIT and the first African-American woman to earn her doctorate in electrical engineering. Her research integrates engineering, linguistics and speech science. Espy-Wilson founded Omni-Speech and as CEO leads her company to improve voice clarity on cell phones and communication devices (like voice to speech applications) in noisy environments.
A native of Atlanta, Professor Espy-Wilson earned her undergraduate degree at Stanford, interned at Bell Labs in New Jersey, and after completing her degrees at MIT, taught at Boston University. She joined the Department of Electrical and Computer Engineering at UMD in 2001 where she has received numerous honors, among them, Distinguished Scholar-Teacher of the University. Espy-Wilson did not plan to enter industry, however; UMD's Venture Accelerator program, part of the Maryland Technology Enterprise Institute (Mtech) compelled her into entrepreneurship in 2009. "I was not thinking about starting a company," she says, "but it's been such an amazing journey."
OmniSpeech targets emerging markets that rely on inexpensive phones with poor sound filtering. "We use the unique characteristics of speech to extract it from the noisy signal, even if the noise is dynamic—like music, or people talking in the background," Espy-Wilson explains. But cell phones are just the first step. "I'm really excited about the potential to improve all kinds of communication devices, including wearables, push-to-talk radios, and hearing aids," she says.
The Speech Communication Group at MIT largely influenced Espy-Wilson's research interests and approach which is evident in her interdisciplinary career.  "It was such a unique group—engineers, linguists, phoneticians, and psycholinguists. We even had a dentist who conducted research into speech motor control," she says. "I attribute the speech enhancement algorithm we developed at OmniSpeech to that holistic background."
To read more about Professor Espy-Wilson's recognition as an outstanding MIT alumna, visit Slice of MIT.
Related Articles:
Qu Wins NIST Grant
UMD Researchers Creating First Onboard Fast-Charging System for Electric Vehicles
NSF Funds Novel Research to Create Scalable Wireless Networking, Averting Usage Crisis
Wu Wins 2015 Signal Processing Society Meritorious Service Award
UMD Discovery Could Enable Portable Particle Accelerators
UMD Researchers' New Nanoscale Solar Cells Could Revolutionize Solar Industry
Mayergoyz and McAvoy Publish Unique Text on Electric Power Engineering
Leidos Invests in Innovation Partnership with the University of Maryland
University of Maryland Establishes Orbital Debris Research Center
UMD Celebrates Inventions and Partnership
December 14, 2015
Prev
Next
Did You Know
UMD is the only major public research university inside the Washington, DC beltway!!