Extreme Unknowns
Extreme Unknowns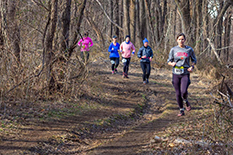 Trying to run 50 kilometers on a cold Saturday morning would be traumatic for most people. At first glance, even the extravagantly fit entrants in an ultramarathon this weekend in Howard County seemed to need urgent care.
Mud-splattered and with trickles of blood here and there, they slumped or sprawled around a field hospital-like tent where a dozen or more people scurried to conduct various medical assessments on them. But then, after 10 or 15 minutes of ministrations, each contestant stood up and loped away, quickly disappearing around a bend at Rockburn Branch Park.
The scene in the tent would repeat over and over throughout the morning and early afternoon for 11 runners who'd good-naturedly agreed to be poked and prodded every 10-kilometer lap. It's part of what may be the first study of the effect of ultramarathoning—which has risen precipitously in popularity—on various mechanisms of the body, particularly in comparison to frequently studied shorter races.
"We don't know that much about how an extreme bout of exercise affects vascular and muscle function," said Steven Prior Ph.D. '05, an assistant professor of kinesiology in UMD's School of Public Health. "We know that generally speaking, athletes have better cardiovascular health, better long-term outcomes, and lower disease risk. But some research also suggests extreme events like ultramarathons might have some adverse effects, at least in the short term, perhaps with increased inflammation."
The lithe research participants didn't seem to suffer from inflammation (except perhaps for one burly man who nevertheless rounded the course as quickly as most of the others) as they underwent tests ranging from blood draws to ultrasound studies of muscle morphology. Another procedure cuts off blood flow to an arm for five minutes to see how much the brachial artery expands to quickly carry fresh blood when the tourniquet is removed. (In this case, bigger is better.)
Prior said the tests after the first lap would provide data reflecting a moderate run, while the later ones would show how higher levels of exercise affect the body. A follow-up battery of tests were run yesterday to see how the body recovers.
He is conducting the study with partners Rian Landers-Ramos Ph.D. '15, an assistant professor of exercise science at Towson University, and Odessa Addison, an assistant professor of physical therapy and rehabilitation science at the University of Maryland School of Medicine. Other Department of Kinesiology faculty members, including Assistant Professor Sushant Ranadive and Professor James Hagberg, and eight graduate and undergraduate students attended the race to help conduct the research.
Results are months away at least, and the researchers are eyeing much more extreme races.
"We're thinking of this a test run for our dream, which is a 100-mile race," Landers-Ramos said.
One of the things they'll work on is getting runners through the tests faster. One contestant on Saturday shuffled around as he awaited his turn on the testing table. "I'm glad I'm just here for training today" rather than focused on race results, he said. "I'm getting cold."
This article originally appeared in Maryland Today.
February 18, 2019
Prev
Next