FIA-Deutsch Seed Grant Honorees Working in Ecuador
FIA-Deutsch Seed Grant Honorees Working in Ecuador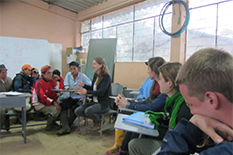 While many students went home last December to work or take traditional classes, a UMD Professor and six students had different plans. They were lured south to a country roughly the size of Colorado with a population of 15.5 million. In the rural communities of the Dulcepamba watershed in Ecuador, a small eight megawatt hydroelectric dam is currently under construction and it is slated to allocate 90 percent of the water rights of the 72 farming communities nearby.
Water rights can only be claimed if dependency on that water can be quantified and validated. Before this project, no serious studies that measure water use in the region had been performed. "Our goal is to help people make a significant impact for underserved communities throughout the world, as well as give opportunities for students to make a difference with their skills and intellect," said Lea-Cox.
Lea-Cox, from the College of Agriculture and Natural Resources, is a Future of Information Alliance (FIA)-Deutsch Seed Grant Honoree. The FIA Seed Grant is designed to encourage teams of students to engage in research projects that lead the way to innovative solutions for key information-related challenges.
The project started through a collaboration between Lea-Cox and Fulbright scholar Rachel Conrad, who has three years of experience working in Ecuador and understands well the rural communities most affected by the building of hydroelectric project. With his group of students, Lea-Cox is helping Conrad's ongoing work by providing the necessary crop-water use modeling tools and expertise that will yield crucial data on water use in the region.
During the winter term three-credit project, Lea-Cox and his team of students traveled to Ecuador to place four internet-enabled weather stations at different locations in the watershed region that will help them estimate how much water is being used by major crops grown in these farming communities. Once the data is made available, the rural communities that have lost their water rights to the hydroelectric project will be able to assess the exact extent of that loss and thus proceed to make claims for irrigation water concessions.
The students who traveled with Lea-Cox— undergraduates Stephanie Ingber, Ian Reichardt, Lorena Kowalewski, Julia Nagy, Jessica Belt, and graduate student Bruk Belayneh—come from diverse academic backgrounds, including environmental science and policy, economics, sustainability studies, plant sciences, environmental and international engineering, Spanish, communications, and international development.
The experience of working closely with a group of people from abroad has allowed each the opportunity to apply their studies in interesting ways. Ian, a senior communications major, is building the website that will contain the much needed data for water use in the area. Stephanie, a senior in environmental science and policy with a minor in sustainability studies, created a socio-economic survey that will enable the researchers to know how much income each crop-producing family or person earns by virtue of water use in the area. This way the communities can understand how valuable the water is to their livelihood. Lorena, Julia, Jessica, and Bruk made their mark by gathering the primary crop modeling data, scaling that information to the entire watershed using advanced geographic information system techniques, and doing a thorough social and historical analysis of the situation.
The group spent most of their stay in the town of San Pablo de Atenas in the northern part of the Dulcepamba watershed. They traveled to different parts of the watershed where they were active with community outreach. The team met with community leaders throughout the region to establish trust about their goals, which were well accepted and understood. Because one of the weather stations is situated on the grounds of a technical school where weather data is being accessed by teachers for environmental classes, the UMD group showed the local students how they can use the information to better understand the use and importance of water in their own communities.
This past spring semester, the students and Professor Lea-Cox extended the project with a three-credit capstone titled "EmPower Ecuador: An Assessment of Community vs. Societal Water Needs in Ecuador." In their final meeting for the semester, the students displayed enthusiasm and shared their stories about culture shock as well of their general impressions of the region. Lea-Cox embraces the success of the project. "Our FIA-Deutsch Seed Award was very helpful in allowing us to do something that would be challenging for the students and lead them to produce something tangible."
Watch the team's final presentation here.
June 12, 2014
Prev
Next