Invention of the Year Finalist
Invention of the Year Finalist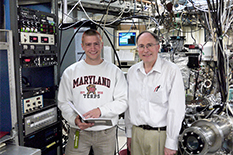 Microelectronic chips and devices are typically produced with a chemical etching process. Recently, the increasing complexity of chips and devices has left the current chemical etching process unable to deliver consistent and precise structures at the needed nano scale of resolution. Atomic layer etching, which is the controlled removal of one atomic layer at a time from the surface of a material, continues to lag behind atomic layer deposition in terms of precision of removal. 
Researchers at the Institute for Research in Electronics and Applied Physics (IREAP) Dr. Gottlieb Oehrlein and Dominik Metzler have produced a system for atomic layer etching of silicon dioxide that for the first time measures the time-based variation of the etching rate of SiO₂. This method creates unprecedented etching control of a material, one atomic layer at a time. The applications of this novel and precise system include nano-electronic device manufacturing, impurity removal, surface cleaning, and nano soldering.
Dr. Oehrlein explains that "this invention makes Atomic Layer Etching practical. We have shown that it is possible to achieve Angstrom-level precision in etching by making several important modifications to widely available plasma etching equipment and controlling critical process details."
Dr. Oehrlein and Dominik were pleasantly surprised about their nomination. "We are delighted and honored by the nomination for the Invention of the Year Award. We believe that Atomic Layer Etching has reached a tipping point. This nomination helps attract attention to this area and may be helpful for implementation given the need for atomically precise fabrication/manufacturing," Dr. Oehrlein adds.
In 2013, the Office of Technology Commercialization (OTC) received 154 invention disclosures from the university's renowned faculty. Ten of these inventions were selected as finalists for the Invention of the Year Award, based on their impact on science, society, and market potential. Winners will be announced on April 29, 2014 at the Celebration of Innovation and Partnerships event.
About OTC: The University of Maryland created OTC in 1986 to provide expert guidance, support, and assistance in safeguarding intellectual property, encouraging research, facilitating technological transfer, and promoting collaborative research and development agreements with industrial sponsors. Visit their website for more information.
April 23, 2014
Prev
Next