Invention of the Year Finalist: Rapid Method for Separating Bacteria from Complex Food Samples
Invention of the Year Finalist: Rapid Method for Separating Bacteria from Complex Food Samples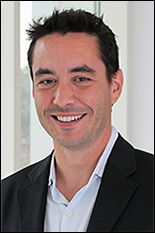 Detection of pathogens present in food samples typically takes at least 12 to 36 hours in food safety labs. But a small chip developed by researchers at the University of Maryland promises to speed the process up considerably, detecting pathogens in less than an hour.
This new innovation, created by Associate Professor Javier Atencia-Fernandez of the Fischell Department of Bioengineering, is one of nine nominees for Invention of the Year Award.  Atencia-Fernandez said that his new apparatus extracts bacteria from food samples without enrichment—the procedure of increasing the number of bacteria to enable pathogen detection without interference from the food matrix—and is therefore very rapid. "Typically, [it takes] 30 minutes to extract 75% of the bacteria, 2.5 hours to extract 99%," he said.
Atencia-Fernandez said that there is a pressing commercial need for technologies like his, which reduce or eliminate the process of enrichment prior to detection. The time required for enrichment was the major bottleneck in the process of rapid bacterial detection, he said.
Atencia-Fernandez and his team created a gradient of chemical repellent across the food sample, which induces the bacteria to flee from it and self-separate into a clean buffer. After this, the sample is analyzed using Polymerase Chain Reaction (PCR).
The UMD research team's method has a significant advantage over mechanical separation methods like centrifugation and microfiltration, which Atencia-Fernandez describes as equivalent to finding a needle in a haystack.
"Our approach does not treat bacteria as inert particulates. On the contrary, it leverages how bacteria migrate in response to their environment to have them [do] the work, and self separate," he said.
Atencia-Fernandez said that the greatest challenge was to make the technology work for large volumes and complex food matrices.
"So far we have preliminary results that show positive identification of salmonella in ground beef [inoculated with salmonella in the lab], and positive identification of salmonella from cow-manure obtained from dairy farms," he said.
Atencia-Fernandez said that as soon as the technique is commercialized, independent labs will first perform safety tests for the food industry.
Atencia-Fernandez's research has been funded by the National Institute of Standards and Technology (NIST) Office of Special Programs.
The Office of Technology Commercialization had put Atencia-Fernandez in touch with the Maryland Technology Enterprise Institute (MTech) and is now working on getting the technology commercialized.
Winners of this year's Invention of the Year Awards will be announced April 29. For more information, visit research.umd.edu or techtransfer.umd.edu.
April 8, 2015
Prev
Next