iSchool Researchers Develop New Technology to Support Citizen Science Sustainability Projects
iSchool Researchers Develop New Technology to Support Citizen Science Sustainability Projects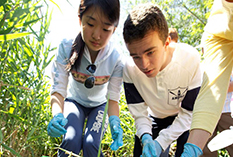 iSchool researchers Andrea Wiggins and Jennifer Preece are partnering with the Smithsonian Institution for an innovative citizen science partnership between K-12 science classrooms and researchers studying sustainability issues such as invasive species, regional biodiversity and climate change. Funded through the National Science Foundation's Cyber-Innovation for Sustainability Science and Engineering (CyberSEES) in the amount of $371,045, with $100,000 coming to the iSchool, Wiggins and Preece are working with an interdisciplinary team of ecologists at the Smithsonian Institution.
In this project, up to 300 science classrooms across the U.S. will take part in generating ecosystem census data from BioCubes, the life in a cubic foot of soil or water over one day. First conceived of by National Geographic photographer David Liittschwager, BioCubes capture enough variation to explore the complexity of entire ecosystems, making them a valuable source of information for researchers. Student-generated data will be integrated with data collected by professional scientists to support ecological studies monitoring the spread and impact of invasive species, the biogeographic and evolutionary effects of climate change, and the community changes in species-rich but vulnerable coastal marine ecosystems.
Wiggins, an assistant professor, and Preece, professor and dean, are developing a proof-of-concept technological infrastructure to deliver data collected in participating science classrooms to researchers who need data for ongoing research. "Technological infrastructure can be a huge hurdle for citizen science projects," says Wiggins. "Methods of transmitting data need to be user-friendly enough to ensure that project participants of varying ages and education levels can use them, while still maintaining data quality for researchers."
Over the course of the study, Wiggins and Preece will be evaluating new data standards and other technologies that could be used in future citizen science projects. With this information, they hope to identify potential strategies that could be used to encourage the use of data generated by citizen science projects across the sciences.
The Smithsonian will be featuring BioCubes this fall in an upcoming exhibit at the National Museum of Natural History.
Related Articles:
UMD Teams Awarded Over $5 Million to Improve Power Plant Cooling Technologies
Annual Cyber Symposium Brings Large Crowd, Interesting Discussion
UMD's WaterShed Grows Roots at Pepco's Rockville Facility
October 29, 2014
Prev
Next