Lenzer to Cultivate UMD Innovation-Based Economic Development Efforts
Lenzer to Cultivate UMD Innovation-Based Economic Development Efforts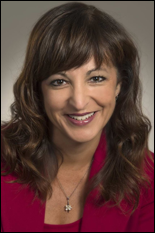 The University of Maryland (UMD) today announced the appointment of Julie Lenzer as Associate Vice President for Economic Development, effective December 12, 2016. Lenzer will also serve as Director of UM Ventures – College Park in the UMD Division of Research.
Lenzer is an award-winning software entrepreneur, ecosystem builder, investor, and educator with a foundation in innovation-based economic development.
Lenzer joins UMD after a two-year appointment at the U.S. Department of Commerce Economic Development Administration, where she was director of the Office of Innovation and Entrepreneurship and senior advisor to U.S. Secretary of Commerce Penny Pritzker. In this role, Lenzer developed and launched the Regional Innovation Strategies program, deploying $40 million in grants across the country over the course of two years. The program was recently recognized as one of President Barack Obama's Top 10 Actions to Accelerate American Entrepreneurship. Additionally, Lenzer led the successful reorganization and institutionalization of the Office of Innovation and Entrepreneurship within the Economic Development Administration, and as a result was named the U.S. lead for the G20 Innovation Task Force.
"Julie's remarkable experience and connections will ignite our growing innovation ecosystem," said University of Maryland President Wallace D. Loh. "She has launched her own enterprises and worked in and out of government to build innovation networks. She has done it all and will do it here."
Prior to her work in the Commerce Department, Lenzer served as the first leader of the Maryland Center for Entrepreneurship. As executive director, Lenzer built and connected regional entrepreneurial ecosystems and delivered entrepreneurship development and growth programs across complex local, regional and state markets. She is also a founding co-chair of Startup Maryland, which through its statewide bus tour, Pitch Across Maryland, connected innovation communities and increased entrepreneurial success across the state. Recently, Maryland Governor Larry Hogan appointed Lenzer to the Maryland Economic Development Commission.
"The university's academic and research programs are incredibly strong, and there is a great opportunity for university innovation to flow into the surrounding community, transforming good ideas into economic growth and jobs," said Lenzer. "I look forward to channeling my most recent experience at the national and international level to benefit my home state of Maryland."
As Associate Vice President for Economic Development and Director of UM Ventures-College Park, Lenzer will report to the Division of Research and the President's Office. She will foster and support the development that is currently underway in the UMD Research Park and Greater College Park. She will also promote and facilitate productive, university-wide collaboration to launch startup ventures based upon University intellectual property, as well as maximize synergies between UMD and the University of Maryland, Baltimore (UMB) to leverage strengths of each and encourage technology commercialization.
"Julie's technology commercialization experience at the regional, state, national, and international level will surely benefit the university's efforts to bring ideas from the laboratory to the marketplace to help stimulate the regional economy," said UMD Interim Vice President for Research Amitabh Varshney.
In all of these efforts, Lenzer will foster collaboration between the university's entrepreneurship and venture creation groups, including the Academy for Innovation and Entrepreneurship, the Maryland Technology Enterprise Institute (Mtech), the Dingman Center for Entrepreneurship, the Center for Philanthropy and Nonprofit Leadership, and the Maryland Small Business and Technology Development Center.
Lenzer is a serial entrepreneur, technology transfer educator, and an active member of the Maryland community. She received the EDA Bronze Award for Excellence in Development, participated in the President Leadership Workshop, and has been recognized as one of Maryland's Top 100 Women, an Influential Marylander, and a Bisnow Federal Innovator. Lenzer earned a Bachelor of Science in Computer Science from Texas A&M University.
December 9, 2016
Prev
Next
Did You Know
UMD is the only major public research university inside the Washington, DC beltway!!