Majority Party Rules? Maybe Not
Majority Party Rules? Maybe Not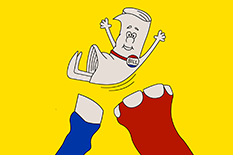 While the prevailing tone of American politics is increasingly divisive, actual laws being passed by Congress are as bipartisan as ever, finds new research from the University of Maryland and the University of Utah.
In a study published today in the journal Perspectives on Politics, UMD government and politics Professor Frances Lee and James Curry Ph.D. '11, now a Utah political science professor, examined passage votes that resulted in new laws as well as the legislative priorities of each congressional majority party from 1985–2016.
"Congress is more partisan, party leaders are more influential, and the legislative process is more centralized. In theory, these changes should make it easier for majority parties to achieve their legislative goals," Lee said. "However, our research shows that these changes have had little impact on a majority party's ability to achieve its objectives without reaching across the aisle to find support from the minority party."
To determine the legislative priorities of majority parties, the researchers combed through opening speeches made by majority leaders, analyzed bills backed by the House speaker and Senate majority leader, and pored over articles in CQ magazine published in the weeks before and after the start of each Congress.
They discovered that congressional majority parties rarely succeed in passing their agenda priorities over the opposition of the minority party. Over this 30-year period, majority parties only achieved 10 clear agenda successes without support from members of the minority party and its top leaders. That represents just 4 percent of the 254 policy priorities identified by the researchers.
Despite party polarization in Congress, the researchers found that few significant laws are being enacted on party-line votes on the model of the Affordable Care Act (2010) or the Tax Cuts and Jobs Act (2017).
Lee and Curry say their results have major implications for activists and lobbyists pushing for legislation on highly partisan policy issues such as climate change and immigration. Additionally, the findings call into question the common practice by political parties to campaign on their records of partisan achievement.
"Because most lawmaking accomplishments are bipartisan, it makes it difficult for voters to accurately assign credit or blame," Curry said. "Expecting a majority party to crush their political enemies 'Conan the Barbarian'-style misunderstands the role of parties in our compromise-inducing political system."
This article originally appeared in Maryland Today.
February 13, 2019
Prev
Next
Did You Know
UMD is the only major public research university inside the Washington, DC beltway!!