Message from Interim Vice President for Research Amitabh Varshney
Message from Interim Vice President for Research Amitabh Varshney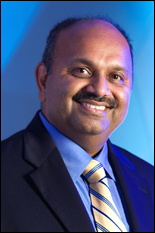 FY 2017 Omnibus Appropriations Bill: Good News for Research
On April 22, busloads of University of Maryland faculty, staff, and students came together on the National Mall to celebrate the life-changing impact that research has on our society. Led by President Wallace Loh, undeterred by driving rain, and fueled with passion for our university's education, research, and service mission, we advocated fearlessly for public and federal support of science and research. On the eve of the March for Science, together with our federal relations director Virginia Meehan, I briefed representatives of Maryland's members of Congress on the potential negative effects of proposed federal budget cuts on our university's research efforts.
Today, I am happy to share positive news about the FY2017 Omnibus Appropriations Bill. Passed by Congress yesterday afternoon, we consider this bill a win for research universities like ours, with significant funding increases for several research and education programs. Other programs that had been slated for reductions or elimination in the administration's most recent budget proposal will, in fact, see boosted or stable funding.
Some of the biggest winners in terms of increased appropriations are Department of Defense applied research, the National Institutes of Health, Department of Energy ARPA-E, USDA Agriculture and Food Research Initiative, Department of Education Pell Grants, and NOAA Oceanic and Atmospheric Research. Both the National Endowment for the Humanities and the National Endowment for the Arts will receive more funding.
We appreciate our congressional delegation's strong support for science and research, and look forward to working with them on funding for the next year. A detailed summary of the FY2017 Omnibus Appropriations Bill is available here: https://go.umd.edu/cis
Why is this important to us?
More than 65 percent of our $560 million research enterprise is comprised of research awards sponsored by the federal government, with the state government, corporations, foundations, and other non-federal sources accounting for the remainder.
Federal research awards allow our university community to study the root causes of anxiety and depression, examine the roles of narrative in the life and identity in the city of Baltimore, build safer and more powerful batteries, harness quantum properties to build new computers and new communication devices, and develop innovative solutions to address emerging cyber threats. These are just a few examples of the impact of the federal budget on our community.
As I look toward the future, I reflect on my memory of the collective voice heard on that rainy day in April. With that energy in mind, let us continue to advocate for our research and education mission. I invite you to share your images and anecdotes of research advocacy with the Division of Research: https://go.umd.edu/cwz
Thank you for all you do to ensure the prosperity of our university's research enterprise and the fulfillment of our shared mission: to provide excellent teaching, research, and service. 
Sincerely,
Amitabh Varshney
UMD Interim Vice President for Research and Professor of Computer Science 
May 5, 2017
Prev
Next