NOAA's Center for Weather and Climate Prediction Opens at UMD Research Park
NOAA's Center for Weather and Climate Prediction Opens at UMD Research Park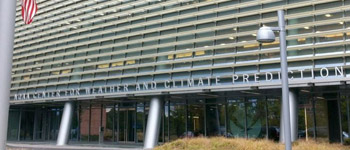 The National Oceanic and Atmospheric Administration (NOAA) opened a new Center for Weather and Climate Prediction (NCWCP) on Monday, October 15, 2012 in College Park, Md. The 268,000 square-foot facility is located in close proximity to the University of Maryland's intellectual resources as well as NASA's Goddard Space Flight Center. The center aims to improve upon weather and climate science and applying research to improved weather forecasts and related information.
These improvements are especially significant for the National Weather Service's National Centers for Environmental Prediction (NCEP), which is the only national civilian hub in development of advanced computer model-based prediction systems and operations. The models are the foundation of virtually all publically available National Weather Service forecast products and services, as well as the primary basis for a majority of "value-added" packages of weather information used by media and commercial weather concerns. In past years, the NCEP was located in a cramped and deteriorating building in Camp Springs, Maryland called the World Weather Building. While in this location, the NCEP made extensive advancements in prediction models, such as the world's first operational global and regional ensemble forecast systems.
The new location at the University of Maryland Research Park holds much potential and opportunity. It houses 825 NOAA employees and almost 40 new conference rooms with internal and external telecommunications, a health unit, a hot food deli, a research library, a 464 seat auditorium, 7 break rooms and a fitness center. A large goal of NCWCP is to encourage collaboration and this elaborate facility will hopefully attract extremely qualified scientists and researchers from other centers of environmental research and prediction.
For more information, visit: http://www.washingtonpost.com/blogs/capital-weather-gang/post/opening-of-noaas-center-for-weather-and-climate-prediction-potential-game-changer-in-forecasting/2012/10/16/e90a36fe-17b8-11e2-9855-71f2b202721b_blog.html
Related Articles:
Chellappa Chairs Workshop to Benefit NOAA Fisheries
AGNR Professor to Fill New Leadership Role at NOAA
NASA Awards $36 Million to UMD for Earth Systems Study
October 15, 2012
Prev
Next