O'Shea Appointed by Governor to Serve on Maryland Life Sciences Advisory Board
O'Shea Appointed by Governor to Serve on Maryland Life Sciences Advisory Board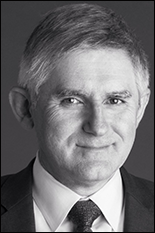 University of Maryland Vice President and Chief Research Officer Dr. Patrick G. O'Shea is one of 16 leaders from federal, academic, and industry organizations appointed by Governor Larry Hogan to the Maryland Life Sciences Advisory Board (LSAB).
The LSAB was created by the state legislature in 2007 to assist in maintaining Maryland's preeminence in the life sciences industry. The Board includes the Secretary of the Maryland Department of Commerce, a representative designated by the Maryland Technology Development Corporation (TEDCO), and 16 members appointed by the Governor.
The 16 new appointees include a patient advocate, executives from global life sciences companies with U.S. headquarters in Maryland, small biotechnology companies, and leaders from the University of Maryland, University of Maryland Baltimore, Johns Hopkins University, Montgomery College, NIH, FDA, and the U.S. Army Medical Research and Materiel Command.
"Maryland is a leading force in the development and commercialization of new and transformative technologies in the life sciences, an industry that is growing by leaps and bounds," said Secretary of Commerce Mike Gill. "This group will bring together their diverse areas of expertise to help shape our strategy to accelerate the growth of Maryland's biohealth and technology ecosystem."
Daniel J. Abdun-Nabi, president and CEO of Gaithersburg-based Emergent BioSolutions, will serve as the chairman of the LSAB. Newly appointed Board members will serve until 2017.
Maryland represents one of the nation's largest life sciences clusters, and is home to dozens of federal agencies responsible for setting standards, approving products for sale to the U.S. market, and funding research in human and animal health, including the FDA, the NIH, the Frederick National Lab for Cancer Research, USAMRIID, ECBC, Walter Reed and U.S. Pharmacopeial Convention (USP). An estimated 80 percent of the U.S. pharmaceutical industry and more than 2,000 life sciences companies are within a two hour drive. The University of Maryland is poised to open A. James Clark Hall, a 184,000-square-foot state-of-the-art facility that will serve as the new home of UMD's Fischell Department of Bioengineering and the Robert E. Fischell Institute for Biomedical Devices when it is completed in 2017.
O'Shea has served as Vice President and Chief Research Officer at the University of Maryland since 2011, overseeing the university's research enterprise. Last year, the university achieved a record-breaking $550 million in research funding.
For more information about the Maryland Life Sciences Advisory Board, visit: http://commerce.maryland.gov/commerce/boards-and-commissions/life-sciences-advisory-board.
January 29, 2016
Prev
Next
Did You Know
UMD is the only major public research university inside the Washington, DC beltway!!