O'Shea Appointed President of University College Cork
O'Shea Appointed President of University College Cork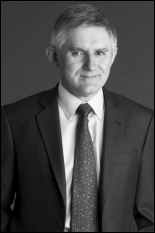 Patrick G. O'Shea, University of Maryland (UMD) vice president and chief research officer, has been appointed president of the University College Cork (UCC). A native of Cork, Ireland, and a UCC alumnus, O'Shea will be the 15th person to serve as the university's president, effective February 1, 2017.
Founded in 1845, UCC is one of Ireland's leading institutions for research and education. With over 20,000 students, 2,800 faculty and staff, and 130,000 alumni, it is ranked in the top 2 percent of universities worldwide. 
"My physics degree from UCC laid the foundation stone for a successful academic career in the U.S., culminating in my current leadership role at the University of Maryland," said O'Shea. "I am delighted to return to lead my alma mater."
O'Shea has served in his current role since 2011. Under his leadership, UMD has forged strong national and international research partnerships, and in fiscal year 2015, achieved a record $550 million in external research awards. During his tenure, the UMD established partnerships with corporations including MITRE, Lockheed Martin, Northrop Grumman, Siemens, and Leidos, and broadened its global reach through international collaborations in Australia, Brazil, Ireland, New Zealand, Sweden, and the United Kingdom.
Prior to his current role, O'Shea held several leadership positions including: Chair of the Department of Electrical and Computer Engineering, Executive Director of the Center for Applied Electromagnetics, Co-Director of the Maryland Cyber Security Center; Director of the Institute for Research in Electronics and Applied Physics; and Project Leader at the University of California Los Alamos National Laboratory. He played a leading role in the founding of the Maryland NanoCenter, the Maryland Center for Applied Electromagnetics, and the Maryland Cybersecurity Center.
In recognition of his accomplishments in science, engineering and education, he has been elected a Fellow of the American Physical Society, the Institute of Electrical & Electronic Engineers, and the American Association for the Advancement of Science, and a Distinguished Scholar-Teacher of the University of Maryland.
O'Shea holds a bachelor's of science in physics from UCC. He first arrived at the University of Maryland as a graduate student, earning his master's and doctoral degrees in physics.
For more information, please read UCC's news release.
June 14, 2016
Prev
Next
Did You Know
UMD is the only major public research university inside the Washington, DC beltway!!