Patents Seminar: An Eye Opener for Many
Patents Seminar: An Eye Opener for Many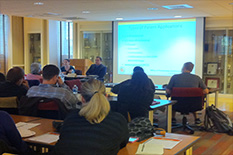 The seminar on patenting intellectual property conducted by the Office of Technology Commercialization (OTC) on Wednesday was an afternoon well spent for a room full of students and faculty at the University of Maryland, College Park.
Led by Felicia Metz, Senior Intellectual Property Manager at the OTC and Fred Rosenberger, Patent Attorney at Miles & Stockbridge P.C., the seminar focused on patenting an invention and the potential difficulties in the process, especially utility patents.
Citing examples of UMD patents, Metz mentioned a method to reduce avian collisions, plant patents on raspberry varieties and pitch tracking systems.
Rosenberger said that a patent has several parts and that inventors have to describe specifications and claims distinctly and clearly.
The patent requirements for novelty and non-obviousness of an invention were discussed at the seminar. Explaining what could compromise patent rights, Metz said that if inventors publish their inventions more than a year prior to filing for a patent, they cannot get a patent for it.
Rosenberger said, "A safe harbor rule is to file before you publish."
"When inventors publicly disclose their invention, they have to file for a patent within a year, and if they don't they lose patent rights," Metz said.
Rosenberger said that the matter of disqualification of a patent under various grounds is under discussion in the courts. Metz emphasized on the importance of confidentiality agreements while outlining the events that could lead to the loss of International Patent Rights, certain U.S. rights or trigger the initiation of a one year grace period in the U.S.
Cody Branchaw, an undergraduate student from the Dingman Center for Entrepreneurship who is also the co-founder of Kanga Trash, a UMD startup, asked the panel whether prototype usage or market testing counted as disclosure, and to that Metz responded that testing a product and making changes to it in the experimental phase does not constitute a disclosure.
"But if you do a commercial activity, it can stop you from getting a patent," Metz said.
Encouraging applicants to look beyond rejections, Rosenberger said, "You have to prove why your invention needs to be a patent. If you get a rejection, take it and look at the prior art and figure out how it is different."
Metz said that having patience through the process is helpful as sometimes examiners may not have the subject knowledge and it takes a lot of convincing. She said that it could cost anything between $15,000 to $40,000 from the filing to issuance of a patent.
Responding to another question from the audience on patent rules for foreigners, Metz said that the same rules applied irrespective of citizenship.
"Inventors have a duty of candor, good faith and disclosure of all relevant prior information related to your patent, if not it might lead to compromising your patent," Rosenberger said.
Taimur Khan, Director- New Business Development, National Foreign Language Center, UMD- College Park who attended the seminar said that it was a useful program as it is important for departments to understand the time and costs involved in patent matters.
"Entrepreneurs and students need to be encouraged and these matters have to be explained more. Ultimately, it comes down to the money," he said.
Branchaw said that he learnt more about the patenting process and what made you lose the right to a patent. "It was good to know what types of intellectual property you have to protect during a business conversation," he said. 
November 12, 2014
Prev
Next
Did You Know
UMD is the only major public research university inside the Washington, DC beltway!!