Pines, UMD Engineers Help Prince George's County Reopening Efforts
Pines, UMD Engineers Help Prince George's County Reopening Efforts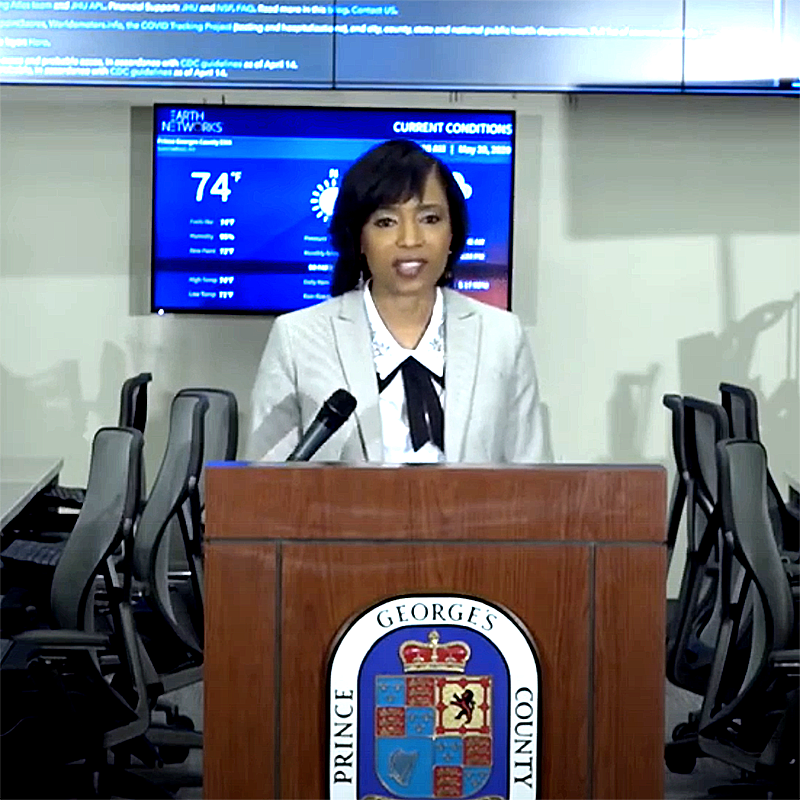 As Prince George's County moves towards economic reopening following a stay-at-home order intended to contain the COVID-19 pandemic, the University of Maryland will provide crucial expertise, resources, and support.
UMD President-designate Darryll J. Pines will be part of a county task force that will help spearhead the county's recovery. Pines, the former dean of UMD's A. James Clark School of Engineering, will head the task force's education subcommittee.
Meanwhile, the Maryland Transportation Institute (MTI), a research hub based at the Clark School, will provide metrics daily on the economy, COVID-19 testing capacity, at-risk populations, travel patterns, and other key variables. Data from MTI will enable the Task Force to quickly identify potential COVID-19 hotspots so that the county can take immediate action.
Prince George's County Executive Angela Alsobrooks held a press conference on Thursday (May 28) to announce the county's move into Phase 1 of the reopening process and the formation of the Prince George's Forward Task Force, which will guide policy on economic development, education, health, human services, government operations, and other areas.
Data from MTI will support recommendations made by the task force, Alsobrooks said.
"The Maryland Transportation Institute is a premier university think tank that offers access to an exciting transportation data platform that we know will be very helpful to us," Alsobrooks told reporters. Through the partnership with MTI, she said, "the task force will have access to cutting-edge data that shows locations across Prince Georges' County that are at or near safe capacity. This location information will help us identify where we need to go to prevent new COVID clusters."
"In addition, MTI will provide us with daily statistics about trends in mobility, social distancing, and other useful health variables. MTI will also provide the task force with valuable data visualizations of trips throughout the county, along with helpful statistics on visit trends to different categories of businesses," Alsobrooks said.
"We'll be able to identify hotspots that are prone to new outbreaks, and we'll also identify patterns of interest so that we can respond to them in real time," she said.
Established in April 2018, MTI is a research, workforce development, and technology transfer hub with a mission of advancing innovation in the transportation sector and related fields. Home to the largest transportation data and data analytics center in the nation, MTI also maintains an interactive COVID-19 impact analysis platform that covers key metrics related to the outbreak. Since its launch on April 13, the platform has tracked a wide range of trends related to COVID-19, including levels of compliance with shelter-in-place orders and drops in social distancing behavior after partial reopenings.
The platform, developed by MTI and the Center for Advanced Transportation Technology Lab (CATT Lab), includes a Society and Economic Reopening Assessment tool that provides data, insight, and decision support on both reopening readiness and post-reopening situational awareness.
MTI and CATT Lab are part of the Department of Civil and Environmental Engineering at UMD's A. James Clark School of Engineering. For more information, contact the project team at data-covid@umd.edu or call 410-245-8959.
Related Articles:
UMD Research Sheds Light on Holiday Travel and COVID
UMD developing COVID-19 decision making tools for colleges
UMD, UMMS Researchers to Develop More Precise COVID-19 Models
Wastewater Testing Could Help Track COVID-19
Social Distancing: Drop Seen for First Time Since Outbreak
COVID-19 Decision Making Gets a Big Data Boost
Incubator Hatches COVID-19 Solutions
Shelter-in-place Compliance Remains Low, UMD Research Finds
In Race With Virus, Researchers Speed Development of Medical Equipment
Public health planners: Free resources for emergency health clinics
June 1, 2020
Prev
Next
We'll be able to identify hotspots that are prone to new outbreaks, and we'll also identify patterns of interest so that we can respond to them in real time.
---