Protecting Part of the Circle of Life
Protecting Part of the Circle of Life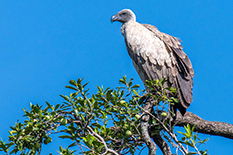 Earlier this year, a major wildlife poisoning took place in Maasai Mara, Kenya. Ecologist Eric Ole Reson, the first person on the scene, witnessed vultures—collateral damage of an action likely aimed at other animals—literally dropping from the sky.
"I could see birds struggling to fly and falling down to the ground," said Ole Reson, who works for the Peregrine Fund and the Maasai Mara Wildlife Conservancies Association. "I found 40 birds on the ground when I got there, about 15 dead, others all struggling. It was overwhelming to see."
While a few score of dead or sick birds might sound sad, but not very consequential, the African vulture populations were already struggling to survive. Although "vulture" is often used as a pejorative, these large birds are vital stewards of human, animal, and environmental health. They act as nature's garbage disposals and disinfectors, and their decreasing numbers—especially in Africa, but worldwide as well—could contribute to diseases such as rabies reemerging as threats.
To address this major public health and conservation concern, the National Socio-Environmental Synthesis Center (SESYNC) funded by the National Science Foundation through the University of Maryland has convened an interdisciplinary group of scientists with the goal of saving Africa's vulture population.
"This work is vital; we could lose African vultures completely in just a few years," said William Bowerman, chair of Environmental Science and Technology at UMD and a principal investigator for the project.
Several other faculty from the College of Agriculture and Natural Resources and other UMD schools and colleges are part of the project as well, along with researchers from Cornell University, Birdlife International, the Peregrine Fund, Endangered Wildlife Trust and elsewhere.
Bowerman, who has spent decades on research that has helped bring back the formerly endangered North American bald eagle, said saving the vultures is a complex problem.
"We have issues of poisoning, but also lead and other contaminants, habitat loss, poaching and vulture trade for belief and medicinal use, and other factors that contribute to why the population is dying so quickly and why we need so many different experts," he said.
Among the team of experts is Ole Reson, a former student of Bowerman's and witness to the major poisoning earlier this year.
When he arrived on the scene, he immediately began calling local veterinarians and agencies to deploy help, while assisting many of the vultures onsite on his own. He moved as many as he could to the shade, dragging several under his car for protection.
He'd previously received training in how to help the birds from Andre Botha, program manager for the Endangered Wildlife Trust's Vultures for Africa program, and the other principle investigator for the SESYNC project alongside Bowerman.
Ole Reson and his team of collaborators have started what is called the Vulture Protectors in the Maasai Mara region of southern Kenya. Among other things, they try to help head off indiscriminate poison use to illegally kill animals people find bothersome.
"We see ourselves as wildlife bomb experts that deactivate bombs before they go off," Ole Reson said. "One poisoning incident has the potential of eliminating several lions or other large animals and hundreds of vultures, for example—that is a huge bomb."
Ole Reson said he and colleagues have had success persuading people who live in the area of the benefits of a healthy ecosystem.
"People are starting to see the benefits of conservation, but living with wildlife is not easy. Grounds and fields get trampled, or carnivores like lions and hyenas might come and kill livestock," he said. "There must be a benefit to conservation that is connected to livelihood and health, and once I was able to show that benefit, people have been very enthusiastic."
Ole Reson said the interdisciplinary approach of SESYNC's vulture initiative can make a meaningful impact.
"I see SESYNC as a way to interface between these disciplines - diseases, anthropology, ecology," he said. "In Africa, we are almost talking about everything as a crisis, and I can see this as an example for all future collaborations."
This article originally appeared in Maryland Today.
April 19, 2019
Prev
Next