Smarter Translation
Smarter Translation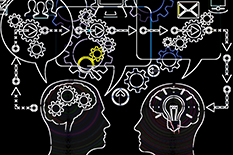 Translation memory systems containing a database of previously translated materials rely on a matching algorithm to establish the results from a search. Because translators rely on these memory systems widely today, their work can be hindered by a matching system that does not pull the best results from the bank of stored material. In addition to improving this matching system, better technology is also required to manage large databases. Researchers Michael Bloodgood and Benjamin Strauss at the University's Center for Advanced Study of Language (CASL) developed an algorithm for computer-aided translation software that produces more helpful translation examples by enabling translation memory systems to identify more relevant matches and allowing them to handle larger amounts of data. Their work has already been recognized by translators for its efficiency in finding multiple domains and language pairs.
Dr. Bloodgood feels honored about being nominated for Invention of the Year. "I am honored and grateful that our invention was nominated as a finalist for Invention of the Year at the University of Maryland." His collaborator, Ben Strauss, feels very grateful about the opportunity this work has given him to expand his own professional outlook. "Dr. Michael Bloodgood and I combined our respective areas of expertise and interest on this project. The time spent working together and sharing, brainstorming and revising our research has proven to be invaluable. I am grateful to Dr. Bloodgood for the opportunity to work with him on this important effort," he says.
Dr. Bloodgood believes in the great potential of their technology to change the field of translation. "The potential for translation memory technology to reduce the time and cost of professional translation is huge." Strauss corroborates this view. "We are hopeful that our invention can help to revolutionize the industry and reduce the cost of creating quality language translations," he adds.
In 2013, the Office of Technology Commercialization (OTC) received 154 invention disclosures from the university renowned faculty. Ten of these inventions were selected as finalists for the Invention of the Year Awards, based on their impact on science, society, and market potential. Winners will be announced on April 29, 2014 at the Celebration of Innovation and Partnerships event.
About OTC: The University of Maryland created OTC in 1986 to provide expert guidance, support, and assistance in safeguarding intellectual property, encouraging research, facilitating technological transfer, and promoting collaborative research and development agreements with industrial sponsors. Visit their website for more information.
April 17, 2014
Prev
Next