START Report: Global Terrorism Fell in 2018
START Report: Global Terrorism Fell in 2018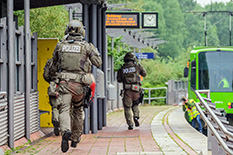 Terrorist violence worldwide decreased for the fourth consecutive year in 2018, when more than 9,600 terrorist attacks killed nearly 23,000 people, according to a report released yesterday by the National Consortium for the Study of Terrorism and Responses to Terrorism (START). The center, based at the University of Maryland, also found that attacks in the U.S. inched up to 67, the most since 1982. 
Based on newly released data from START's Global Terrorism Database, which includes information on more than 190,000 terrorist attacks dating to 1970, the report highlights the trends of 2018: a steep decline in ISIS attacks in Iraq, but an expansion of the group's global footprint; fewer mass casualty attacks in Western Europe; and a rise in far-right attacks in the United States.  
"It's always interesting to see how diverse patterns are from place to place," said Erin Miller, manager of the Global Terrorism Database and author of the report. "We have data on terrorist violence worldwide, but remember that every place is unique, with complex and varied contexts and developments that extend beyond terrorist violence. This analysis just scratches the surface."
Terrorist violence peaked in 2014 at nearly 17,000 attacks and more than 45,000 deaths globally, but since then attacks have fallen 43% and deaths have decreased 48%. The change has been driven largely by patterns of terrorism in Iraq, which from 2013 to 2017 suffered more terrorist violence than any other country. However, in 2018, following an offensive by the Iraqi government and its allies against the Islamic State, attacks decreased 46% and the number of people killed fell 78% from the previous year.
The Islamic State group remained deadly last year, even after the liberation of Mosul in July 2017, killing more than 800 victims in at least 650 attacks in Iraq and more than 700 people in at least 72 attacks in Syria. The group also claimed responsibility for fatal attacks in Iran, the Philippines and Tajikistan. 
Western Europe, meanwhile, saw the number of attacks shrink 31% from 2017 to 2018, while the number of deaths fell 70%, in part due to fewer mass casualty attacks. The deadliest of the nine lethal attacks occurred in December, when a man who claimed allegiance to Islamic State killed five and injured 11 at a Christmas market in Strasbourg, France. 
The increase over the past decade in the United States has been primarily driven by the proliferation of far-right attacks and the growing variety of ideological motivations behind them. The number of terrorist attacks remained relatively stable in 2017 (66) and 2018 (67), following a jump from 38 attacks in 2015 to 67 in 2016.
There were six lethal terrorist attacks in the United States in 2018, excluding one attack in which only the perpetrator died, compared to 18 in 2017. All six lethal attacks involved far-right ideological elements, including primarily white supremacy and, in at least two cases, male supremacy. 
---
The release of START's new global report coincided with its announcement of a partnership with CHC Global to serve as the exclusive commercial distributor for the Global Terrorism Database. The alliance with the London-based company, which works to understand, manage and insure terrorism risks, will help secure the long-term stability of the GTD, ensure it remains freely available for personal and academic research use, and allow START researchers to focus on making continual improvements to the data and data collection process. 
"CHC Global has extensive expertise in delivering terrorism analytics in the public and private sectors," START Director William Braniff said. "The fact that they share our commitment to distributing the GTD widely to those who work to understand and minimize the impacts of terrorism makes them ideal partners in this effort." 
---
This article originally appeared in Maryland Today.
October 10, 2019
Prev
Next
Did You Know
UMD is the only major public research university inside the Washington, DC beltway!!