Suffragists, Scientists and Scholars
Suffragists, Scientists and Scholars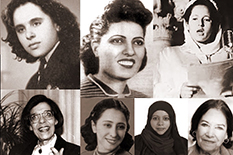 The first woman to earn a high school education in Egypt, in 1907. One of the founders of Islamic feminism. The first female Arab pilot, doctor, political leader.
These are just a few of the pioneering Arab women featured in a new website that for the first time features current and past leaders in a searchable directory and database. Launched by the George and Lisa Zakhem Kahlil Gibran Chair for Values and Peace in the College of Behavioral and Social Sciences, it allows users from all over the world to draw inspiration from Arab women pioneers, and to potentially connect with them on research and projects.
The Pioneers and Leaders: Knowledge Center About Arab Women site features profiles of women leaders and organizations that promote the interests of women from 15 countries across the Arab world. So far, 210 women and organizations are featured, and users may submit nominations for more to be added.
"The women we've chosen to feature, past and present, represent various fields and have achieved a diverse array of accomplishments. But they are all women who have overcome barriers, served as role models, and exemplify the values of progress, peace and human rights for all," said May Rihani, director of the Gibran Chair.
The Knowledge Center acknowledges the advancement of Arab women's progress, aims to break stereotypes and supports the empowerment of women and their allies. In addition to profiles of women pioneers, it features facts and statistics about women in the Arab world, and outlines Gibran Chair research aimed at understanding and improving the lives of women in the Arab world.
"The site was designed for knowledge seekers—women, men, policymakers, NGOs, research institutes, business people, international development agencies, students, the media, and many others," Rihani said. "There truly is no limit to the amount of women and organizations we can feature, and how their stories and their work will inspire others to make lasting changes in their own communities."
In the coming months, a second phase of the website—known as the Hub—will be launched. Selected users will be able to log in to the Hub and use it as a tool for networking and for international dialogue via chat functions and project-sharing tools.
Both the public-facing website and the Hub portal are part of an international project run by the Gibran Chair, Women as Partners in Progress (WPP). The U.S. Department of State awarded the University of Maryland a two-year, $2.5 million grant to support WPP, a platform that promotes women's leadership and gender-inclusive policies in the Middle East and North Africa.
Rihani serves as the principal investigator of the project in conjunction with three partner organizations: Jossour, a women's rights advocacy NGO in Morocco; World of Letters, a social enterprise promoting youth dignity and equity in the Arab region, founded in Jordan; and Abolish 153, a women's protection and empowerment organization in Kuwait.
"Our virtual Hub will help advance key women's issues and gender-inclusive policies, and will ensure that these activities will grow and achieve greater impact and sustainability in the years to come, well after the project term is over," Rihani said. "We are working for widespread and lasting change."
This article originally appeared in Maryland Today.
January 24, 2019
Prev
Next