The Short List: Invention of the Year Finalists
The Short List: Invention of the Year Finalists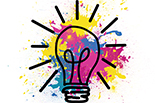 On April 29, the University of Maryland Office of Technology Commercialization (OTC) will award its 2013 Invention of the Year. Finalists are selected based on their impact on science, society, and market potential.  Of the 154 inventions OTC received discolsures for in 2013, only eleven were chosen as finalists.   
Better Material for 3D Printing of Vascular Implants
Professor of Bioengineering John P. Fisher and graduate student Anthony Melchiorri have developed a better material for 3D printing of vascular implants. Fisher and Melchiorri's polymer-based material resin meets one of the biggest challenges in 3D printing in the medical field: the need for biodegradable and biocompatible materials that support cell and tissue growth while degrading over time. Its mechanical properties, strength, and elasticity mimic those of actual blood vessels. Because it is also biodegradable, the patient's own tissue replaces it over time, reducing or eliminating the need for further surgeries. Fisher and Melchiorri agree that the biggest contribution of their work is the revolution it might bring to the treatment of cardiovascular disease in children. More
Quick-drying Adhesive Coating for Athletic Gloves
Researchers from Chemical & Biomolecular Engineering, including Professor Srinivasa Raghavan, Ph.D. candidates Kevin Diehn and Chanda Arya, and undergraduate student Karl Engel, teamed up with former tight end for the UM football team Matthew Furstenberg to develop a special material that would effectively extend the durability of football gloves. Their invention, GripBoost, is a quick-drying polymer-based gel, similar in consistency to hand sanitizer, that is biodegradable and non-toxic, leaves no residue after a catch, and meets league requirements. Their invention saves significant costs in replacing gloves whose "tact" or stickiness wears out after a few days' use. More
New Possibilities for Cloud Storage
The majority of the current methods used for ensuring remote data retrievability from cloud storage are designed for static data, and the few that respond to updates are both costly and require a high level of bandwith. Professors of Engineering Elaine Shi and Charalampos Papamanthou and the late Ph.D. candidate in Computer Science at UC Berkeley Emil Stefanov have developed a dynamic proof of reliability scheme that requires 300 times less bandwith and that efficiently records updates on data without relinquishing the guarantee that a client's data is authentic. Their work accomplishes a great deal in building a more secure and usable cloud computing infrastructure. More
Enhancing Cellular Device Privacy
John S. Baras, Professor of Electrical and Computer Engineering and Lockheed Martin Chair in Systems Engineering, Tuan Ta, Ph.D. candidate in Electrical Engineering, have developed a technique that protects user IDs on cellphones from spreading to attackers. Ta and Baras' signal processing technique allows cellular devices to determine whether a signal received is specifically intended for that device through the creation of a unique ID. This ID is embedded onto the received message while being transmitted at a lower power relative. Once received, it can only recognized by the user, preventing the attacker from learning the user's location. The researchers attest to their innovative approach toward privacy issues through the use of the physical characteristics of cellphone devices as opposed to the traditional cryptographic primitives that are more commonly used. More
New Apple Tree Variety
Christopher Walsh, Professor of Plant Science and Landscape Architecture in the College of Agriculture and Natural Resources, and Graduate Assistant Julia Harshman have developed a new apple tree variety that accommodates the demands of Mid-Atlantic apple growers and adapts to the region's hot summer—the Antietam Blush. The Antietam Blush is an alternative to the current "grower-friendly" dwarf apple tree that requires the labor-intensive method of budding, pruning, and branch angle manipulation. The traits developed by Professor Walsh and Julia in the Antietam Blush will reduce labor costs and increase production through a shorter and narrower tree, a more effective branching profile, and a higher drought and disease resistance. The researchers also managed to maintain a fruit flavor profile similar to the commercial varieties from which the tree was developed. More
Low Cost, High Energy Li-ion Battery
Professors Eric Wachsman and Liangbing Hu at University of Maryland Energy Research Center (UMERC) and Associate Professor of Chemistry at the University of Calgary Venkataraman Thangadurai designed an intrinsically safe, low-cost, high-energy solid state li-ion battery that reduces manufacture costs dramatically. Typically, li-ion batteries contain a liquid material that can ignite under certain conditions. Even though solid state li-ion batteries are considered the next generation solution, their high manufacturing costs present a major challenge to widespread production. This new low-cost li-ion battery cannot catch fire and has a significantly greater energy density, meaning that electric cars can go farther on a single charge and thus reduce users' range anxiety. Its potential for changing how consumer electronics, electric vehicles, and aerospace industries operate is significant. More
Algorithm for Computer-Aided Translation Software
Translation memory systems rely on a matching algorithm to produce results from searches done through their databases of stored material. Researchers Michael Bloodgood and Benjamin Strauss at the University's Center for Advanced Study of Language (CASL) developed an algorithm for computer-aided translation software that produces more helpful translation examples by enabling translation memory systems to identify more relevant matches and allowing them to handle larger amounts of data. Their work has already been recognized by translators for its efficiency in finding multiple domains and language pairs. It also has enormous potential for reducing the time and cost of professional translation. More
Optical Waveguide
Waveguides, though used for a variety of purposes, experience setbacks in their transmission of power when exposed to air. Typically, for a laser to produce ideal results, it must tolerate large amounts of energy without breaking apart as it travels through air. Professor of Physics Howard Milchberg, Associate Research Scientist at the Institute for Research in Electronics and Applied Physics (IREAP) Jared Wahlstrand and graduate students Nihal Jhajj and Erich Rosenthal have developed a new technique for ultrashort laser pulses that involves modest energy to imprint long-lasting and robust waveguides in the atmosphere. These waveguides can persist for several milliseconds, extend for a kilometer or more, and resist thermal blooming to channel high power laser beams up to megawatt levels, far beyond what can be done today. The advantages include remote sensing, directed energy, the guiding of lightning, and standoff detection, which means that signals can be measured from a long distance away from their source and thereby learn about the source properties. More
Modified Newcastle Disease Virus
Newcastle disease is a contagious and lethal viral disease that affects most species of birds and is especially fatal in chickens. Current NDV vaccines do not provide long-lasting immunity and generally leave birds vulnerable to strains of NDV originating from abroad. Researchers in the Department of Veterinary Medicine at the College of Agriculture and Natural Resources (AGNR) Siba Samal, Sunil Khattar, and Sweety Samal have improved the effectives of the NDV vaccine by modifying the Newcastle virus. They have thus increased the immunogenicity of live vaccines, the duration of immunity from a single vaccination, and the immunity to foreign strains of NDV. The modified virus has shown increased growth in the laboratory, which translates into increased vaccine production and significantly lower costs for poultry producers. More
Atomic Layer Etching
Microelectronic chips and devices are typically produced with a chemical etching process. Recently, the increasing complexity of chips and devices has left the current chemical etching process unable to deliver consistent and precise structures at the needed nano scale of resolution. Researchers at the Institute for Research in Electronics and Applied Physics (IREAP) Dr. Gottlieb Oehrlein and Dominik Metzler have produced a system for atomic layer etching of silicon dioxide (SiO₂) that for the first time measures the time-based variation of the etching rate of SiO₂. This method creates unprecedented etching control of a material, one atomic layer at a time. The applications of this novel and precise system include nano-electronic device manufacturing, impurity removal, surface cleaning, and nano soldering. More
New Class of Antiepileptic Drugs
Unfortunately, while numerous treatments for epilepsy have been developed, 25-30% of epilepsy patients do not achieve complete control of their seizures or are left suffering from severe side effects from their antiepileptic drugs. This leaves a large portion of the population without adequate treatment and a great need for the development of new treatments to help these patients. Drs. Patrice L. Jackson-Ayotunde and Harper Tawes at the University of Maryland Eastern Shore have identified a new class of chemicals that possess antiepileptic properties in animal models. Through structural-activity relationship studies, they have developed twelve lead compounds that show antiepileptic properties in multiple animal models with limited to no observed neurotoxicity. More
So, who do you think will win? Which one is your favorite invention? Tell us at vpr@umd.edu
April 29, 2014
Prev
Next
Did You Know
UMD is the only major public research university inside the Washington, DC beltway!!