UMD Alumnus and CEO, Brendan Iribe, purchases liscensing rights to UMD-founded Company
UMD Alumnus and CEO, Brendan Iribe, purchases liscensing rights to UMD-founded Company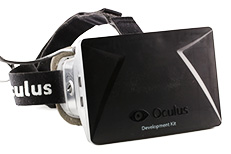 Oculus VR, led by Maryland alumnus and company CEO Brendan Iribe, will use 3-D audio technology developed at this university for their virtual reality headsets, The Diamondback reported Friday.
Following a $31 million contribution given to the university by Iribe, the company has purchased the licensing rights to VisiSonics' audio technology. VisiSonics was founded with the help of the Office of Technology Commercialization by computer science professor Ramani Duraiswami and other university researchers in 2010.
"Audio is an essential ingredient for immersive virtual reality," Iribe said in the article. "The technology that the VisiSonics team has developed is a great start towards developing a fully-featured VR audio solution, and we're incredibly excited to be licensing their work to drive VR forward."
Duraiswami explained that typical headphones rely on stereo sound, while this technology provides a more immersive experience. Their design accounts for not only direction, but the individual shape of the wearer's ears, which effects how sound travels. This is called the head-related transfer function.
"We've figured out how to measure HRTFs very quickly, in seconds," Duraiswami said. "We can use hearing tests or even photographs of ears to determine the HRTF of any individual."
VisiSonics tracks the audio as well using their own device, a sphere fully covered with cameras and microphones.
"You need to have these start-ups to bring these ideas to the market place," Gayatri Varma, executive director of the Office of Technology Commercialization, said. "This is something we like to see. It's great because not only is their technology being used, but it's a UMD alum who came back and bought it."
Related Articles:
UMD, NIST Announce Joint Center for Quantum Information and Computer Science
Emerging Disease Could Wipe Out American, European Salamanders
UMD Professor Receives $1.9M to Study Cell "Glue" Important in Disease
UMD and NIH Researchers Receive $1.7M BRAIN Grant to Investigate How Crowds of Neurons Process Sensory Information
Major Milestone in the Search for Water on Distant Planets
New Physical Sciences Complex Holds Revolutionary Promise
UMD Transplant Organ Flight Named Invention of the Year
Envisioning the Future of Urban Transportation
4D Bioprinting Smart Constructs for the Heart
Advancing Healthcare through Robotics and Machine Learning
October 7, 2014
Prev
Next