UMD, COPT Welcome New Innovation Partners, Announce Speculative Office Building
UMD, COPT Welcome New Innovation Partners, Announce Speculative Office Building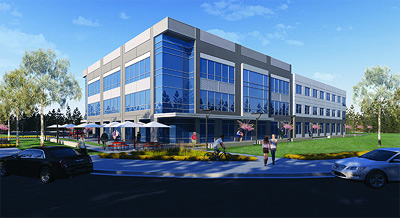 COLLEGE PARK, Md. – Corporate Office Properties Trust ("COPT") (NYSE: OFC), in partnership with the University of Maryland, will break ground on a new 75,000-square-foot building at 5801 University Research Court. The building aims to attract businesses and organizations that focus on research and technology, as COPT's existing 240,000 square feet are 100% occupied.
Located near a current Green Line Metro stop and adjacent to a future Purple Line stop, this is the third building in the joint venture partnership between COPT and the university. Consisting of three 25,000-square-foot floors with flexible floorplans and Class-A finishes, the building will also include an outdoor plaza to provide an enhanced pedestrian experience that maximizes the value of its proximity to growing retail and residential options nearby.
The public-private partnership between the university and COPT encompasses 128 acres dedicated to research and innovation, and is home to leading research organizations in environmental and earth science, food safety, agriculture policy, language and national security.
"We are honored to expand our venture with the University of Maryland," stated Stephen E. Budorick, COPT's President and CEO. "This location's proximity to the Metro, as well as being situated within the broad array of R&D and incubator spaces that foster entrepreneurialism and thought leadership in various technology industries, will support durable demand for this development. In our view, the venture district is poised for dynamic expansion."
"This new development will strengthen our ability to attract new research activities and businesses to the state of Maryland," said UMD Vice President and Chief Research Officer Patrick O'Shea. "As the Modern Metropolitan Model of the 21st Century Land-Grant University, it is our duty and our honor to foster this vibrant ecosystem for economic diversification and research innovation."
Nearby buildings are fully at capacity, and construction of a building on spec serves as an indication of office market trends in Prince George's County, according to leaders in the region.
"COPT's decision to proceed with this new 75,000-square-foot office building represents a major milestone in Prince George's County's economic resurgence. It is the first speculative office building announced in this County in at least a decade, and represents a sign of the private sector's confidence in the new business climate we have tried to create," said Prince George's County Executive Rushern L. Baker, III. "This project is coming to fruition because of the great partnership between the University of Maryland and Prince George's County. With proximity to Metro, MARC, and the coming Purple Line rail options, in addition to the connection to the University, COPT has chosen the perfect location for this quality proposal."
"We're thrilled at the possibility of attracting top-tier businesses and organizations to Prince George's County to not only fuel our economy, but bring new jobs and opportunities to County residents," said Prince George's County Council Vice Chair Dannielle M. Glaros. "Having a cohesive vision between the County, the municipalities of Riverdale Park and College Park, and the university has made this possible."
"As we prepare for the arrival of Prince George's County's first Whole Foods Market, we are pleased to welcome 75,000 square feet of new office space to Riverdale Park," said Vernon Archer, Mayor of Riverdale Park. "With our close proximity to the university's thriving startup culture and the coming Purple Line, Riverdale Park continues its rapid economic growth during a very exciting time for our community."
Adjacent to the university and bordered by Paint Branch Parkway, Kenilworth Avenue and River Road, this area was honored as a 2015 Outstanding Research Park by the Association of University Research Parks.
May 20, 2016
Prev
Next
Did You Know
UMD is the only major public research university inside the Washington, DC beltway!!