UMD Invention of the Year Nominee Could Hold Key to Preventing Gonorrhea
UMD Invention of the Year Nominee Could Hold Key to Preventing Gonorrhea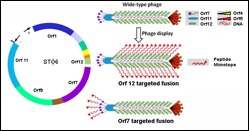 University of Maryland Professor of Cell Biology and Molecular Genetics Daniel Stein and University of Warsaw Professor Andrzej Piekarowicz have invented a promising vaccine for the prevention of gonorrhea that has the potential to cripple the spread of the infection. 
Over 100 million new cases of gonorrhea occur annually, making it a public health crisis. The sexually transmitted disease is caused by the bacterium Neisseria gonorrhoeae (GC), which can produce infections in the urogenital tract, rectum and throat in both men and women. Over time, gonorrhea has developed resistance to antibacterial drugs used to fight the infection, such as Ceftriaxone.
"If GC develops widespread antibacterial resistance, there will be a dramatic increase in the $5 billion per year treatment costs of gonorrhea infections," said Stein. "Development of an effective vaccine that provides lasting immunity to GC is of critical importance to the healthcare community."
Researchers who have attempted to create a vaccine against gonorrhea in the past have failed, but Stein and Piekarowicz are bucking traditional approaches and exploring innovative, creative solutions.
They discovered that GC produce a phage, or virus that reproduces in bacteria, that is unusual because it can replicate in Salmonella. Armed with this knowledge, the researchers hypothesized that modifying an approved vaccine strain of Salmonella will allow them to create a viable gonorrhea vaccine. The vaccine is still in the early stages of development. 
Stein has been studying meningitis and gonorrhea, the only two harmful bacteria in the Neisseria genus that colonize in humans, for 35 years and was inspired through discussions with Piekarowicz and another researcher who studies potential vaccine targets to investigate new vaccine possibilities. 
"I am trying to translate the basic findings that I have made, in combination with others in the field, to put forth a solution to a major public health problem," said Stein. "We originally set out to understand some basic aspects of Neisserial biology, but along the way we realized that we could integrate these findings into a vehicle that might actually work as a vaccine."
Stein and Piekarowicz's gonorrhea vaccine has been nominated by UMD's Office of Technology Commercialization for the Invention of the Year award in the Life Sciences category. Winners will be announced at the Celebration of Innovation and Partnerships on May 9th as part of the University of Maryland's "30 Days of EnTERPreneurship." 
To learn more about "30 Days of EnTERPreneurship," visit: http://www.umd.edu/30Days/.
April 26, 2016
Prev
Next
Did You Know
UMD is the only major public research university inside the Washington, DC beltway!!