UMD Invention Tackles Remote Wireless Power Delivery
UMD Invention Tackles Remote Wireless Power Delivery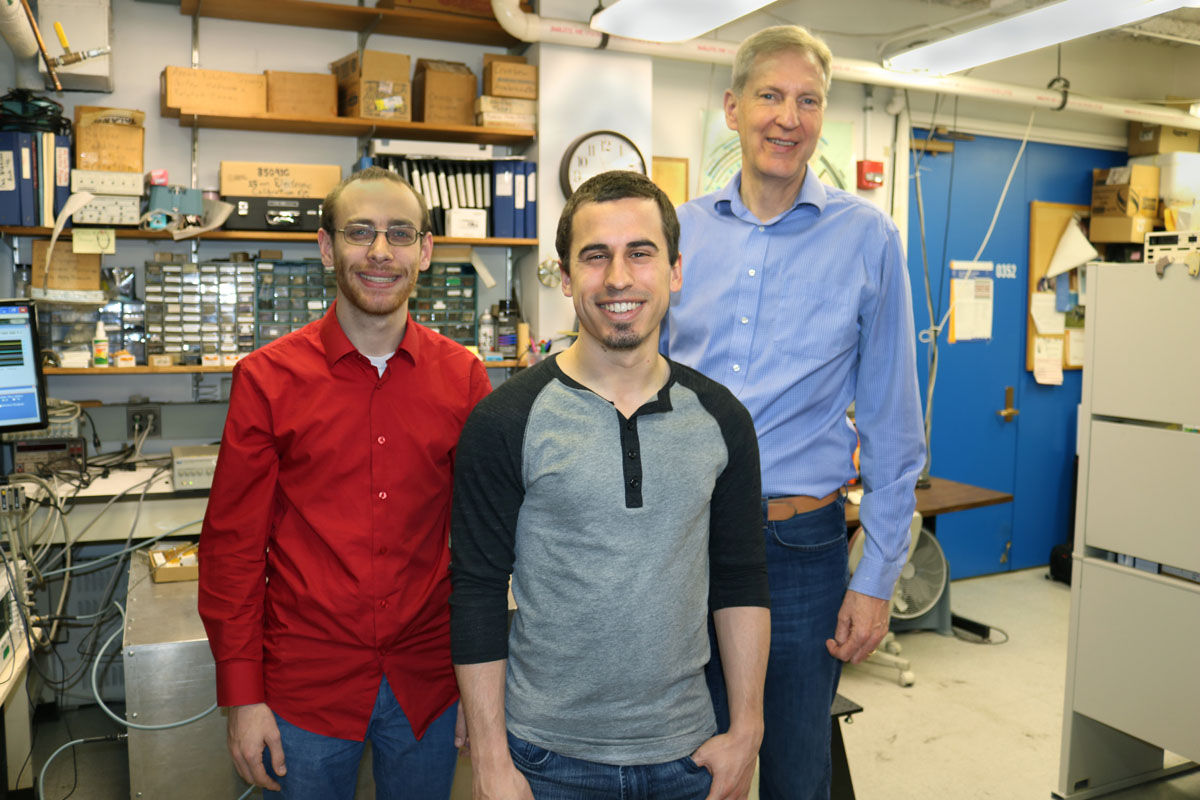 As our personal collections of electronic devices grow, so does the demand for available wall outlets and the unsightly—and potentially dangerous—tangle of power cords. 
What if the need for cords and power outlets could be eliminated? A University of Maryland (UMD) team of researchers has developed a new technology for wireless power transfer (WPT) that could help people untangle cords and free up outlets for good.
The team's invention makes use of wave properties of light to establish a safe and efficient means of wireless power transfer. 
"The idea of WPT is to power electronics remotely and autonomously without any intervention by, or distraction to, the user," said Steven Anlage, professor in the Department of Physics in the College of Computer, Mathematical, and Natural Sciences (CMNS) and researcher in the Center for Nanophysics and Advanced Materials (CNAM). "Our invention uses weak radio waves sent along many independent paths from a base station to a user's device in such a way that when they arrive, all of the waves interfere constructively to transfer significant power to the device."
This invention was created through a collaboration that included Anlage; UMD alumni Frank Cangialosi (B.S. '16, computer science; B.A. '16, economics), Tyler Grover (B.S. '16, mathematics, physics), Scott Roman (B.S. '16, physics, materials engineering), and Liangcheng Tao (B.S. '16, electrical engineering); and mechanical engineering and mathematics student Andrew Simon. The alumni and student made their contributions as part of team TESLA in UMD's Gemstone program, a unique, multidisciplinary experience that gives students the opportunity to design, direct, and conduct significant research, exploring the interdependence of science and technology with society.
While other WPT methods already exist, the team's technology is unique in its capability to power devices at a distance of meters, compared to only centimeters in existing devices, eliminating the need to put the device at a specific location, near an antenna, or near an electrical transformer. Furthermore, unlike other WPT methods, the team's invention is able to power devices that are in motion.
"We have demonstrated the principles to track the device as it moves about a room and to continue to power it as it moves," said Anlage. "We can also distinguish different devices and selectively power them, as well as convert the delivered radio frequency power into direct current (DC) power, to charge a battery, for instance."
The team hopes to see its WPT idea used throughout the world, and to date, several companies have expressed an interest in licensing the technology and funding its further development.
"Our team believes that electrical power should be as ubiquitous as breathing air,"said Anlage. "Our WPT invention could transform society by eliminating the last tether that binds us to the grid, and eventually phase out the words 'recharge' and 'power cord' from our vocabulary."
The team's research was supported by grants from the Office of Naval Research (ONR), the Air Force Office of Scientific Research (AFOSR), the Intelligence Community Postdoctoral Research Fellowship Program, and by CNAM.

UMD's Office of Technology Commercialization has nominated the team's innovation for the 2016 Invention of the Year award in the Physical Sciences category. The winners of the award will be announced at the Innovate Maryland: Celebrating Innovation and Partnerships event on April 12, which is part of the University of Maryland's "30 Days of EnTERPreneurship."
To learn more about this research, and to read the team's past publications, visit http://anlage.umd.edu/AnlageTR.htm.
March 7, 2017
Prev
Next
Did You Know
UMD is the only major public research university inside the Washington, DC beltway!!