UMD Poll Reveals That As Benefits From Nuclear Deal Fall Short of Iranian Public's Expectations, Ahmadinejad Closes in on Rouhani
UMD Poll Reveals That As Benefits From Nuclear Deal Fall Short of Iranian Public's Expectations, Ahmadinejad Closes in on Rouhani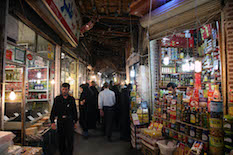 A year ago, when the nuclear deal was signed, 63 percent of Iranians said they expected tangible improvements in people's living conditions within a year, according to a poll led by the Program for Public Consultation and the Center for International and Security Studies at Maryland (a center within the University of Maryland School of Public Policy). However a new University of Maryland poll finds that now, a year later, three quarters (74%) of Iranians say there has been no improvement at all.
Such perceptions appear to be hurting President Hassan Rouhani's prospects for reelection a year from now. Former President Mahmoud Ahmadinejad has closed the gap with Rouhani to just 8 points among likely voters in the next election, from a 27-point gap in May 2015.
A widely held perception is that the United States is obstructing sanctions relief. Three in four Iranians think that the United States is actively preventing other countries from normalizing their trade and economic relations with Iran, contrary to its obligation in the nuclear agreement. Two in three Iranians believe that while the United States has lifted the sanctions it agreed to lift in the nuclear agreement, it is finding other ways to keep the negative effects of those sanctions. This may be contributing to the lack of improvement in views of the United States despite the nuclear deal: very large majorities—currently 73 percent —continue to have a negative view of the United States.
Eroding confidence in the benefits of the deal may be reducing popular support for it. A year ago and right after the nuclear agreement was signed, 76 percent of Iranians approved of the deal (43% strongly). Today, however, 63 percent approve of the deal (22% strongly).
Besides not yet receiving the anticipated benefits from the nuclear agreement, some of this decline in support for the deal may also be related to the Iranian public gaining a somewhat more accurate understanding of its less popular aspects. A majority (60%, up from 33% last year) now realizes that Iran has accepted limits on its nuclear research. A majority (61%, up from 30% last year) also knows that many U.S. sanctions are not covered by the agreement and will continue. Yet, a growing majority continues to believe, inaccurately, that under the deal, the International Atomic Energy Agency is not permitted to inspect Iranian military sites under any conditions (64%, up from 61% last year).
A large majority (72%) of Iranians say they have little or no confidence that the United States will meet its obligations under the deal. In contrast, 61 percent say they are confident that other P5+1 countries will fulfill their obligations under the nuclear agreement.
"Iranians appear to have underestimated how much the remaining U.S. sanctions coupled with uncertainty about future U.S. policies would affect their ability to access frozen funds and engage eco
nomically with countries besides the United States," says Nancy Gallagher, interim Director of the Center for International and Security Studies at Maryland (CISSM). "If the Iranian public fails to see reductions in unemployment and other tangible benefits from the nuclear concessions Iran made, Rouhani's re-election may be at risk."
Despite disappointments with the slow pace of economic improvements from the nuclear deal a large majority—62 percent —think Iran should increase its economic engagement with Western countries, while only 9 percent think Iran should decrease it.
However, support for various forms of bilateral cooperation with the United States is now lower than it was before the deal was signed. For the first time since the summer of 2014, a majority (54%) of Iranians now oppose cooperation with the United States against ISIS in Iraq, compared with a majority (59%) of Iranians who approved of such collaborations shortly after the nuclear deal was reached.
Iranians, however, continue to strongly support Iran working with others to counter ISIS in various ways.  Four in five (81%) approve of Iran participating in international negotiations over the future of Syria, and six in ten (63%) support Iran using its influence over key players in Syria to help secure a lasting ceasefire between various players not affiliated with terrorist organizations. An overwhelming majority (84%) approve of collaborating with Russia to help the government of Bashar Assad counter ISIS. Also, 6 in 10 say that Iran should increase its support of groups fighting ISIS.
Furthermore, 64 percent think that Iran should send its own military personnel to Syria, and an extraordinarily high 98 percent continue to have a very unfavorable view of ISIS.
Though approval of Rouhani is high, there are important negative trends. While immediately after the signing of the nuclear deal 61 percent of Iranians said they have a very favorable opinion of Rouhani, today only 38 percent express such feelings, and another 44% say they have a somewhat favorable opinion of him. An increasing majority also thinks that Rouhani has not been successful in reducing unemployment (73%, up from 53% last year).
Iranians have also become substantially less optimistic about Iran's economy, with only 42 percent now thinking that the economy is getting better down from 57 percent last year.
The telephone poll of 1,007 Iranians was conducted June 17–27, 2016, for the Center for International and Security Studies at Maryland by IranPoll.com, an independent, Toronto-based polling organization. The margin of error was +/- 3.2%.
Read the full report: http://www.cissm.umd.edu/publications/iranian-public-opinion-one-year-af...
View the full survey questionnaires:  http://www.cissm.umd.edu/publications/iranian-public-opinion-one-year-af...
View all CISSM Iranian Public Opinion studies: http://www.cissm.umd.edu/projects/security-cooperation-iran-challenges-a...
July 15, 2016
Prev
Next