UMD Recognizes Most Promising Innovations at Invention of the Year Awards
UMD Recognizes Most Promising Innovations at Invention of the Year Awards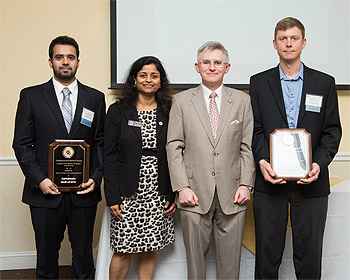 Time-reversal techniques for optimizing broadband communication networks, early diagnosis of Lou Gehrig's disease, and rapid prototyping of microfluidics devices were the award-winning inventions recognized as the most promising new technologies at the University of Maryland Invention of the Year Awards.
The University of Maryland's Office of Technology Commercialization (OTC) hosted the 26th Annual Invention of the Year Awards on Tuesday, April 16, 2013 from 4:30-6:00 pm at the University of Maryland Golf Course Club House. Each year, the event is held to recognize the most promising innovations developed in the last year on the University of Maryland campus. The event is part of the University of Maryland's 30 Days of EnTERPreneurship, a month-long celebration and exhibition of innovation and entrepreneurship on the College Park campus.
Winners were selected by an independent panel of judges consisting of representatives from on and off campus, who voted for the Invention of the Year in three different categories: Information, Life, and Physical Sciences. The BioHealth Innovation Inc., a Maryland-based innovation intermediary that helps commercialize market-relevant research, offered services to each winning team to help them write a successful Small Business Innovation Research (SBIR) proposal.
UMD's innovations help to stimulate the local economy, provide valuable products for public use, and help fuel research and entrepreneurial initiatives through inter and intra-university collaborations. The Invention of the Year Awards reception is hosted by the Office of Technology Commercialization, part of the Division of Research at the University of Maryland. Speakers at the reception included Vice President for Research Dr. Patrick O'Shea and OTC Executive Director Dr. Gayatri Varma.
A complete list of Invention of the Year finalists is included below, by category:
INFORMATION SCIENCE CATEGORY:

Winner:
Time-Reversal Division Multiple Access for Wireless Broadband Communications
Feng Han, Yu-Han Yang, Beibei Wang, Yongle Wu and K. J. Ray Liu
A team of researchers at the University of Maryland have developed an innovative approach to overcome this interference deficiency by utilizing a time reversal (TR) signal transmission technique that makes full use of multi-path data transmission environments.  Energy from the time-reversal waves is able to be focused only at intended locations with excellent spatial resolution, especially in ultra-wideband (UWB) systems.  This results in a low cost, energy-efficient (a very low radio frequency (RF) transmission), secure solution in multi-user wireless broadband communication networks.  The quickly emerging area of wireless home area networks (WHAN) for multi-media and data, and other well suited applications such as radio frequency identification (RFID), with its enhanced pin-pointing resolution and extended communication range, are primary targets for entry into the marketplace.
Runners Up:
Sensor Adaptation in Iris Biometrics
Jaishanker Pillai, Maria Puertas-Calvo, Ramalingam Chellappa
Researchers at the University of Maryland's Department of Electrical and Computer Engineering have developed a prototype machine learning algorithm that "cures" the sensor adaptation problem so that iris reading sensors can utilize data collected from another sensor.  They developed a general framework for learning kernel functions for iris codes, which makes numerous kernel-based machine learning algorithms applicable to iris codes.  The proposed method also produces significant improvement in recognition performance, is robust to in plane rotations and can incorporate privacy using cancelable iris patterns.  The result is an efficient solution requiring limited changes to the existing iris recognition systems.
High Resolution, Real-Time Polling Application for Enhanced User Engagement
Philip Resnik
React Labs technology brings together the best of all these approaches, providing an innovative, integrated solution to the problem of gathering real-time reactions to events.  At the core of the React Labs platform for real-time polling is a mobile app that lets users react to an event moment by moment and collects temporally fine-grained, interpretable data about their responses.  The React Labs platform occupies a "sweet spot" between traditional polling and social media analysis: it allows researchers to collect crucial crosstab data and to carefully design questions for maximum value and interpretability while also creating significant engagement with users and collecting their temporally fine grained, unmediated real-time responses.
LIFE SCIENCE CATEGORY:
Winner:                                                                                      
A Method for Early Diagnosis of Amyotrophic Lateral Sclerosis (ALS)
Eva Chin and Dapeng Chen
Amyotrophic Lateral Sclerosis (ALS), also known as Lou Gehrig's disease, is a disease of the nerve cells or neurons in the brain and spinal cord that control voluntary muscle movement.  ALS is marked by the wasting away or death of neurons which can no longer send messages to muscles.  This eventually leads to muscle weakening, twitching, and an inability to move arms, legs and the body.  It is estimated that in about 10% of the cases, the origin of symptoms is genetic and in the remaining, it is unknown.  ALS affects about 5 in every 100,000 worldwide. Most patients diagnosed with ALS die within 2-3 years after diagnosis and 25% survive for more than 5 years post-diagnosis.  While there is no known cure for ALS, there is a drug called riluzole used to slow the progression of the disease and prolong the life of patients. Researchers at the University of Maryland have developed an innovative strategy to identify early, pre-symptomatic indicators and molecular markers associated with ALS.  Early diagnosis and potential treatment would enable the alleviation of symptoms and hence prolong a patient's life.
Runners Up:
Novel One-pot Transformation Process for Making a Pure Provitamin a Carotenoid
Frederick Khachik
A researcher at the University of Maryland has developed a unique and efficient method of transformation of lutein from both natural and artificial sources to highly pure beta-crytoxanthin.  The uniqueness of this reaction is that it is a single-step, one-pot reaction that takes place at room temperature.  The advantage of this method over previously used methods is that it eliminates unnecessary steps that require heating the reaction mixture and delivers a highly purified product.  Obtaining a highly purified product is an imperative step in the process of manufacturing a nutritional supplement since it has to be safe for human and animal consumption.
Novel Method to Synthesize Stable, Self-Assembling Virus-like Nano Rods and Tubes
James Culver, Adam Brown, Lindsay Naves
Researchers at the University of Maryland have developed nano scale VLP rods and tubes by engineering the Tobacco Mosaic Virus.  The TMV derived VLP created is a rigid rod or tube consisting of multiple copies of identical capsid subunits (M.W. 17.5kDa) with a ~4nm diameter channel and a ~300nm axis. This high aspect (length to width) ratio enables the viral particle to be ideal for nano templating. In proof-of-concept studies, the investigators have demonstrated the metallization of surface assembled VLPs for making high surface area electrodes and the display of a receptor for the detection of a tag specific antibody. Researchers have also developed a technique to circumvent problems associated with the stability of functionalized virus particles that occur as a result of viral replication or recombination of the genetic material.
PHYSICAL SCIENCE CATEGORY:
WINNER:
A Method for Rapid, Inexpensive Prototyping of Microfluidic Devices
Omid Rahmanian, Donald DeVoe
Researchers at the University of Maryland have developed a desktop manufacturing method for thermoplastic microfluidic devices using an entirely different approach to forming microscale features in thermoplastics termed orogenic microfabrication, wherein selected regions of a thermoplastic surface are raised from the bulk substrate through an irreversible solvent swelling mechanism. This process offers a unique and exceptionally rapid approach to prototype patterned and sealed microfluidic devices from homogenous thermoplastic substrates.  The photolithography free fabrication approach combines channel formation and bonding into a single step.  The simplicity of the approach developed allows a designer to directly define channel features on a thermoplastic substrate with total cycle times between 30-90 minutes from initial design concept to final device.
Runners up:
Electronic Home Plate
Christopher Davis, John Rzasa, Gerald Spessard, Leroy Chamberlain, Jr., Jakob Scharmer
Researchers at the University of Maryland have developed a prototype of an electronic home plate (EHP).  The EHP is a simple, low-cost baseball home plate that contains electronic and opto-electric components that will detect and indicate the presence, position, and speed of a baseball passing over the plate.  It is designed to assist umpires in determining if a pitch is a ball or a strike in games and can be a valuable tool for pitchers and batters alike in baseball training.  The EHP is unique in that not only can it detect a ball as it passes between the outer edges of the home plate but also is automatically adjusted to correspond to the knee-to-chest strike zone.
Sensor System for Detection of Scour and of Riverbed Migration
Raymond Swartz, Alison Flatau
Researchers at the University of Maryland and Michigan Technological University have designed bio-inspired flow sensing whiskers based on the principle of magnetostriction as an enabling technology for the development of robust scour sensor arrays to detect riverbed levels at bridge foundations.  The proposed scour sensor network utilizes an array of magnetostrictive flow sensors mounted to the surfaces of bridge piers and foundations.  An automated data interrogation system will detect dynamic signals, perform sensor fault detection tests, and compute the profile of the riverbed at the bridge support.


For more detailed information regarding the finalists, see www.techtransfer.umd.edu.
April 16, 2013
Prev
Next