UMD Researchers Demonstrate Effectiveness of New Lidar Technology in Forest Mapping
UMD Researchers Demonstrate Effectiveness of New Lidar Technology in Forest Mapping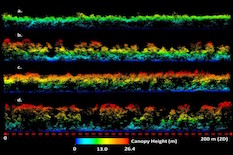 A team of scientists from the University of Maryland and Sigma Space Corporation has shown that 3-D forest structure and topography can be measured rapidly, efficiently and accurately over large areas, using an innovative laser technology called single photon lidar (SPL). 
The study, funded by NASA and published in the Nature journal, Scientific Reports, evaluates the first large-scale deployment of a single photon lidar instrument over the entirety of Garrett County (1700 sq. km) in Maryland. 
"This is a noteworthy development in the field of lidar remote sensing, which is traditionally energy intensive and limited in coverage," said Dr. Anu Swatantran, Assistant Research Professor in the University of Maryland Department of Geographical Sciences and lead author on the research paper. "There are challenges, as with any new technology, but the level of 3D detail provided by the instrument is exceptional and accuracies of ground and canopy attributes are comparable to other lidar systems."  
The instrument developed by Sigma Space uses an array of lasers to illuminate targets on the earth's surface and captures energy returned from these targets more efficiently than other lidar instruments. The instrument requires only one photon to make an accurate measurement of the distance or range to landscape element. Each element of the 10 x 10 detector array is able to make a simultaneous measurement at any one instant. These observations are then used to map the vertical structure of the canopy, and as the instrument scans, to provide continuous spatial coverage. This is in contrast to conventional lidar, which needs hundreds to thousands of photons to make a reliable range estimate. 
"Forest monitoring and associated carbon inventory was one of the main applications that guided the development of these instruments. We are very pleased to see it come to fruition. Units even more powerful than the one used in this campaign have already been developed," said Dr. Marcos Sirota, President of Sigma Space. 
"One of the limitations of mapping 3-D structure with conventional lidar is the expense, which results from having to fly low, having a narrow swath width and needing overlapping flight lines to achieve sufficient density of observations," said Ralph Dubayah, a Geographical Sciences professor at the University of Maryland and the Principal Investigator of the project. "SPL provides an order of magnitude increase in mapping efficiency. This capability opens the door for mapping much larger areas on a repeated basis. This has great implications for the measurement and monitoring of carbon stored in trees, as forests are important carbon sinks -- that is, they sequester carbon dioxide from the atmosphere. An increasing number of countries want to participate in carbon markets and climate treaties and can receive credit for their efforts to avoid deforestation and for afforestation. In either case, we need a means for quantifying forest over large areas and through time. This mapping ability has been a priority of NASA, and SPL potentially provides an innovative pathway towards achieving that goal."
June 23, 2016
Prev
Next
Did You Know
UMD is the only major public research university inside the Washington, DC beltway!!