UMD Researchers Develop New Method for Electrogenic Devices to Control Cell Behavior
UMD Researchers Develop New Method for Electrogenic Devices to Control Cell Behavior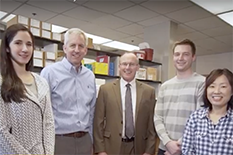 Imagine a person with diabetes could check their blood sugar and, upon seeing that it is too high, could press a button on their cell phone that prompts their pancreas to make and release insulin. This capability could dramatically improve that person's quality of life with a new and less expensive treatment option.
No such technology exists yet, but University of Maryland (UMD) researchers at the A. James Clark School of Engineering and the Institute for Bioscience and Biotechnology Research (IBBR) have developed a breakthrough invention that may someday make this biomedical technology a reality. The UMD researchers have invented a new method that uses electrical signals to control how cells turn on certain genes, essentially programming the cells' behavior. This could help enable computer controlled personalized medicine, with precision treatments that are tailored to the individual. The ability to electrically stimulate cells to produce and deliver therapeutics could revolutionize the treatment of diabetes and other diseases.
The invention uses a specific kind of molecules, which are called "redox molecules," to carry electrons from an electronic device to cells. The cells then use oxidation to interpret the electrical signal by turning specific genes on or off. One of the inventors, Robert E. Fischell Distinguished Professor and Director of the Fischell Institute for Biomedical Devices William E. Bentley, compares the process to wires in electronics.
"The redox molecules carry electrons from devices to the biological system and from the biological system to the device," explained Bentley. "The difference is that in wires, the electrons can flow freely to any location within; redox molecules must undergo chemical reactions – oxidation or reduction reactions – to 'hand off' electrons."
The research team sees many potential applications for their invention and hope it will inspire the creation of new electronically-controlled biohybrid devices.
"Since our invention gives control of cell function to electronics, we expect it to be useful in both researching various diseases or health conditions as well as in the biotechnology industry for optimization and production of important compounds, drugs, and materials," said Tanya Tschirhart, bioengineering alumna, IBBR researcher, and first author on the paper the research team published in Nature Communications earlier this year.
In addition to Tschirhart and Bentley, the invention team includes: Gregory Payne, professor at IBBR and in the Fischell Department of Bioengineering; IBBR researchers Amin Zargar and Eunkyoung Kim; and Ryan McKay, Hana Ueda, Alex Raphael Pottash, and Hsuan-Chen Wu, graduate students at IBBR and the Fischell Department of Bioengineering.
The researchers' invention was nominated for a University of Maryland Invention of the Year Award in the physical sciences category and featured at the "Innovate Maryland" event last April.
October 10, 2017
Prev
Next