UMD Startup Makes Audio Software for Headphones Designed to Transport Listener to Another Place
UMD Startup Makes Audio Software for Headphones Designed to Transport Listener to Another Place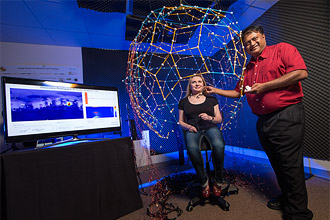 In the growing age of virtual reality (VR), a startup launched by University of Maryland researchers has designed new technology to help transport your senses from wherever you are to wherever you want to be—a music concert or sporting event far away—in a way that will make you believe you are actually there.
The co-founder of VisiSonics Corporation, Professor of Computer Science Ramani Duraiswami of the University of Maryland Institute of Advanced Computer Studies (UMIACS), explained that it all started with some key inventions in the general area of 3D sound.
"One invention was based on a characteristic of human hearing called 'head-related transfer functions' and how to measure them quickly," Duraiswami said. "And then the method of measuring spatial sound followed by visualizing the sound."
A head-related transfer function is a response that characterizes how an ear receives a sound from a point in space. After working through these measurement processes, the researchers worked on developing software.
"Resulting technology allowed one to create spatial sound over headphones," he said. Over time, these technologies were exclusively licensed from the University of Maryland by our startup where the work continued."
The Maryland researchers found that a totally immersive audio experience can be created by reproducing the sounds in the listener's environment.
Duraiswami explained that typical headphones rely on stereo sound, while the VisiSonics technology provides a more immersive experience. Their design accounts for not only direction, but the individual shape of the wearer's ears, which affects how sound travels. This is related to the head-related transfer function.
With these concepts as the basis, VisiSonics makes products that are classified into two separate families: RealSpace™ 3D Audio and RealSpace™ Audio-Visual Camera.
RealSpace™ 3D Audio can place sound anywhere within three-dimensional spaces with very high accuracy. It can create the perception of real source direction, distance, depth and movement relative to the listener and heard through standard stereo headphones.
The RealSpace™ Audio-Visual Camera can be visualized, spatialized and recorded, and is used by large corporations, such as automobile companies. Tesla is one example of an auto maker that has a relationship with VisiSonics, in addition to other automobile giants.
Gregg Wilkes, CEO of VisiSonics, said that to discover the markets for which their technology could provide value, they went through a lot of review and analysis and spent time with customers.
"After making a few adjustments to the initial strategy, we have since sold close to $1 million in products and services to the auto manufacturers and 3D audio market for gaming and virtual reality in the past 18 months," he said. "We continue to adjust our plan accordingly for growth."
The VisiSonics team quickly identified that the target audience for their RealSpace™ 3D Audio was in the realm of gaming and that virtual reality had the most value but was least developed.
Wilkes and Duraiswami then doubled on the development in the gaming space and got their first revenue opportunity. After that, more opportunities followed. Last fall, Oculus licensed the RealSpace 3D Audio for their upcoming release of their Oculus VR Software Development Kit (SDK).
"Our product can be used by every person who consumes media via headphones," Duraiswami said. "But our customer is the software engineer who incorporates our software as a plug-in in the production of 3D audio."
VisiSonics has changed a lot from the time it was founded. The company started off with just the two co-founders: Ramani himself and Adam O'Donovan, a Ph.D. candidate in the Department of Computer Science at UMD who is now the Chief Technical Officer at VisiSonics. Initially, they were just focused on building hardware, an audio camera.
"Over time, we realized that the much bigger market was in creating 3D sound over headphones. So we have had more employees and more seasoned business people join us," he said.
The company worked extensively with UMD's Maryland Technology Enterprise Institute (Mtech). Mtech staff introduced the VisiSonics co-founders to the National Science Foundation I-Corps process and mentored them though it.
Duraiswami said that they have since met many customers and developed a much better idea of where the market is headed. The university provided a good environment for the startup by making incubator space available to them on campus.
The Office of Technology Commercialization (OTC) at the University helped VisiSonics secure and license patents from the University.
"OTC helped us get a $15,000 award from TEDCO to pay for some of our startup costs. They have been flexible in dealing with us even after the company started," said Duraiswami.
Executive Director of the OTC Gayatri Varma said that the university seeks to engage and encourage entrepreneurial faculty like Duraiswami. "The University System of Maryland and the state through UM Ventures have allowed us to establish programs to build sustainable enterprises," she said.
VisiSonics now has relationships with many major SDKs, Head-Mounted Displays (HMD), Operating Systems (OS) and developers.
"Additionally, we are developing plug-ins for all the major engines like Unity, Unreal, Crytek, OSVR, Wwise and FMOD," Wilkes said.
A "trojan horse" strategy is in the pipeline for the company, Wilkes said. This will focus on the capability to personalize audio experiences for end users of entertainment forms delivered through headphones.
The company is also trying to leverage the demand for 3D audio by building a tool for the cinematic VR space. "This is something we call 'Object Based Audio' with a New RealSpace 3D offering that is very exciting," he said.
"The true value of audio is just beginning to get exposure and we plan to unleash that value to the world," Wilkes said.
To learn more about VisiSonics, visit www.visisonics.com.
September 1, 2015
Prev
Next