UMD Startup North American Wave Engine Corp. Receives Investment from USM Venture Capital Fund
UMD Startup North American Wave Engine Corp. Receives Investment from USM Venture Capital Fund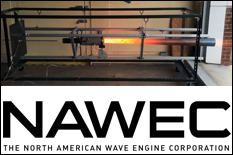 North American Wave Engine Corporation (NAWEC), an aerospace company formed from research based at the University of Maryland, College Park, has received a $1.45 million investment in a funding round jointly organized by the recently established University System of Maryland (USM) Momentum Fund and the Abell Foundation, a nonprofit dedicated to the enhancement of the quality of life in Maryland, with a particular focus on Baltimore City.
NAWEC is the third startup to receive an investment from the USM Momentum Fund, which was established by the USM Board of Regents to support promising commercial opportunities arising from advances in research and intellectual property at USM campuses, filling gaps in the funding pipeline to push USM's most innovative ideas into the marketplace. The USM Momentum Fund and the Abell Foundation are each contributing $350,000 toward the investment in NAWEC. Other critical sources in the investment round include, among others, funding from the co-founders of Tenable Network Security; Ron and Cyndi Gula of Gula Tech Adventures; and Bill Niland, the former CEO of Harpoon Medical. 
NAWEC is an aerospace company engaged in the design and development of wave engines for jet propulsion applications. NAWEC has designed and developed a jet engine without any moving parts, to deliver unparalleled levels of fuel-efficiency and weight- and cost-savings to a rapidly growing unmanned aerial vehicle (UAV) market and the broader aerospace sector. The technical and economic advantages of this engine technology are expected to have a broad impact on aircraft design and the aviation infrastructure by improving the capabilities and affordability of smaller aircraft.
NAWEC has ground-tested its first series of prototype engines for the General Aviation and UAV markets, and is moving toward flight-testing at the UMD Unmanned Aircraft Systems (UAS) Test Site in Southern Maryland. The company is also working with established aircraft manufacturers and government agencies to bring its first product to the market.
"We are grateful to the USM Momentum Fund and the Abell Foundation for their support as we continue to push the boundaries of science, engineering, and aviation," said NAWEC CEO Daanish Maqbool, who earned his Ph.D. at UMD's A. James Clark School of Engineering, where is he currently a lecturer.
Following his undergraduate degree at MIT, Maqbool selected UMD's aerospace engineering department for its reputation, prominent faculty members, and the high-quality research and funding opportunities. For his graduate research, Maqbool worked on a NASA project focused on advanced rocket engine cooling methods.  
"This third investment in the USM Momentum Fund is the latest example that our system is determined to support technology transfer opportunities that develop on our campuses," said USM Chancellor Robert L. Caret. "We want these companies to grow and mature, as the USM demonstrates a leadership role as an economic driver for Maryland."
The company will use the funds for flight testing at the UMD UAS Test Site and for office space at TechPort at The Airport, a new startup incubator, both located near the Naval Air Station Patuxent River St. Mary's County, Md.
"We're excited that this innovative technology is expected to seed a new industry that, looking ahead, will create manufacturing jobs in Baltimore," said Abell Foundation President Robert C. Embry, Jr. 
About the University System of Maryland (USM)
The USM is the state's public higher education system. USM's 12 institutions, two regional higher education centers, and system office work closely together to leverage their collective expertise and resources, share best practices, increase the system's effectiveness and efficiency, and advance USM's mission to improve the quality of life in Maryland.
About the USM Momentum Fund
With a $10 million commitment from the USM already in place, the system is collaborating with UM Ventures to reach out to area venture capitalists and angel investors for an additional $15 million. UM Ventures is a joint initiative of UMB and UMCP to commercialize technologies and expand industry collaboration.
About the Abell Foundation
The Abell Foundation is dedicated to the enhancement of the quality of life in Maryland, with a particular focus on Baltimore City. The Foundation places a strong emphasis on opening the doors of opportunity to the disenfranchised, believing that no community can thrive if those who live on the margins of it are not included.
April 4, 2018
Prev
Next
Did You Know
UMD is the only major public research university inside the Washington, DC beltway!!