UMD VP for Research O'Shea Speaks at Europe's Largest Science Conference, EuroScience Open Forum
UMD VP for Research O'Shea Speaks at Europe's Largest Science Conference, EuroScience Open Forum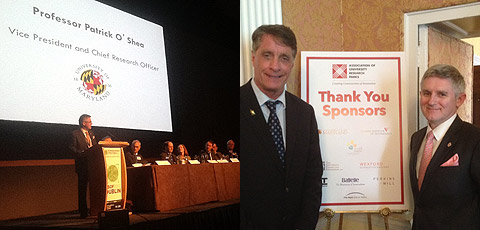 University of Maryland Vice President and Chief Research Officer Dr. Patrick O'Shea was invited to speak at the Euroscience Open Forum (ESOF 2012), which took place in Dublin in July 11-15, 2012. The global event featured leading researchers, business leaders, Nobel Laureates, international media and policy makers.
As part of ESOF 2012, Dr. O'Shea and University of Maryland Associate Vice President for Research and Economic Development Brian Darmody participated in the Association of University Research Parks international meeting. Leaders from echnology incubators and research parks and government officals joined the National Business Incubation Association (NBIA) and the Association of University Research Parks (AURP) for this executive forum.
ESOF 2012 is part of the Dublin City of Science 2012 festival, a year long celebration that will bring together a community of cultural institutions, organisations and individuals who are passionate about showcasing the best of Irish culture, arts and science.
Over 600,000 people are expected to attend a rich and vibrant program of more than 200 events across Dublin and the Island of Ireland and included visual art, theatre, film, tours, large-scale interactive installations, experiments, public talks, debates and workshops.

Dublin was designated a City of Science by the Lord Mayor of Dublin at the beginning of 2012 to celebrate Dublin hosting Europe's largest science event.  This prestigious event drew the most influential from the world of science, society and policy assemble in Dublin for the largest open forum of its kind. Over 4,500 delegates , 400 international and 600 speakers from over 70 countries attended ESOF 2012. 

For more information about the Euroscience Open Forum, visit: http://esof2012.org/2012/02/euroscience-open-forum-2012/
For more information about the Dublin City of Science 2012, visit http://www.dublinscience2012.ie/
June 15, 2012
Prev
Next