UMD Welcomes New VP for Research, Unveils New Vision for Strategic Impact
UMD Welcomes New VP for Research, Unveils New Vision for Strategic Impact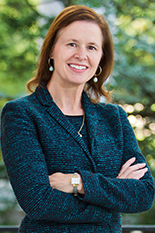 The University of Maryland welcomed Dr. Laurie E. Locascio as its new Vice President for Research, effective October 1, 2017. In this role, Locascio will be responsible for sustaining strong growth and excellence in the university's research programs.
For the past 30 years, Locascio has worked at the National Institute of Standards and Technology (NIST) in Gaithersburg, Md., rising from a research biomedical engineer to senior leadership positions. Most recently, she served as the Principal Deputy Director and Associate Director for Laboratory Programs at NIST, providing leadership and operational guidance for NIST's seven scientific and mission-focused laboratories.
"Dr. Locascio brings just what our research enterprise needs to thrive in this increasingly competitive environment," said University of Maryland President Wallace D. Loh. "In addition to her great scholarship and innovation, she has a remarkable ability to create strategic partnerships. Laurie will lead us into a vibrant research future."
Locascio's appointment as VP for Research was announced last May. She has met regularly with senior staff in the Division of Research over the course of the summer to plan her transition. The Division of Research unveiled the following animated continuum to convey the strategic impact of UMD's research enterprise and demonstrate how campus creativity will fuel fearless research with the power to change lives under Locascio's leadership:go.umd.edu/researchcontinuum
"It is an honor to be joining one of the nation's top research universities to spearhead transformative work," said Locascio. "I look forward to leading UMD's research enterprise of more than a half a billion dollars directed at groundbreaking work taking place across campus."
Previously, Locascio directed the Material Measurement Laboratory (MML), one of NIST's largest scientific labs, overseeing 1,000 research staff in eight locations around the U.S. and a $170M annual budget. As MML Director, she recruited top talent, fostered excellence, and built a collegial and collaborative workplace. She implemented strategic partnerships with universities, industry, and other government labs, including a partnership with UMD's Institute for Bioscience and Biotechnology Research at Shady Grove. Prior to that, Locascio served as chief of the Biochemical Sciences Division in the MML.
Locascio's most recent honors and awards include the 2017 American Chemical Society Earle B. Barnes Award for Leadership in Chemical Research Management, and the 2017 Washington Academy of Sciences Special Award in Scientific Leadership.  A Fellow of the American Chemical Society, of the American Institute for Medical and Biological Engineering, and of the Washington Academy of Sciences, she has published 115 scientific articles and has been awarded 11 patents.
Locascio received a B.S. in chemistry from James Madison University, a M.S. in bioengineering from the University of Utah, and a Ph.D. in toxicology from the University of Maryland, Baltimore. 
Under Locascio's leadership, the Division of Research will continue to expand its collaborative relationships in the U.S. and around the world. To learn more, visit: http://research.umd.edu/
October 10, 2017
Prev
Next
Did You Know
UMD is the only major public research university inside the Washington, DC beltway!!