UMD's Federal Agency Partners See Budget Bumps, or Avoid Cuts
UMD's Federal Agency Partners See Budget Bumps, or Avoid Cuts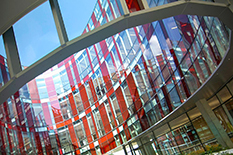 Recently passed federal spending bills provide funds for some of the University of Maryland's most important government research partners.
They include NASA, the National Institute of Standards and Technology (NIST), the National Oceanic and Atmospheric Administration (NOAA), the U.S. Department of Agriculture (USDA) and the National Science Foundation (NSF).
An earlier round of appropriations last fall funded others, including the Department of Defense, the Department of Energy and the National Institutes of Health.
"At the time we thought, wow, Congress is really on track to get things done this year, and then the shutdown occurred," said Virginia Meehan, director of federal relations for the university.
The remaining appropriations were passed on Feb. 14 as part of the deal that reopened parts of the government. Meehan said they provided "nice funding increases" for several federal agencies that support the university's research enterprise, which received $545 million in external funding in fiscal year 2018.
Even in climate research, which researchers feared would be subject to cuts, Meehan said, "Those programs were largely held harmless and in some cases received slight increases in funding, which is a win for the university."
Among the funding increases:
NSF: 3.9 percent to $8.1 billion.
NASA's Science Mission Directorate: 11 percent to $6.9 billion.  Within that amount, earth science research funding rose by 0.6 percent to $1.9 billion.
NOAA's Oceanic and Atmospheric Research: 3.3 percent to $525 million.
USDA's Agriculture and Food Research Initiative: 3.8 percent to $415 million.
National Endowment for the Arts and the National Endowment for the Humanities: 1.3 percent to $155 million.
"We are pleased that Congress has boosted its funding of agencies that support research in areas of critical importance to our nation and our university," said Laurie Locascio, vice president for research at the University of Maryland.
Additionally, funding for NIST's Scientific and Technical Research and Services and the Environmental Protection Agency's Office of Science and Technology remained level at $724.5 million and $706 million, respectively.
UMD's upcoming federal priorities, Meehan said, include raising sequestration caps—spending limits imposed by a 2011 budget deal—in order to better fund research agencies. The caps have been lifted every year since the 10-year deal was struck.
This article originally appeared in Maryland Today.
February 21, 2019
Prev
Next
Did You Know
UMD is the only major public research university inside the Washington, DC beltway!!