Uncovering How COVID-19 Changed Work
Uncovering How COVID-19 Changed Work
$200K NSF Grant to Fund Study of Employment-Related Mobility, Job Loss and Creation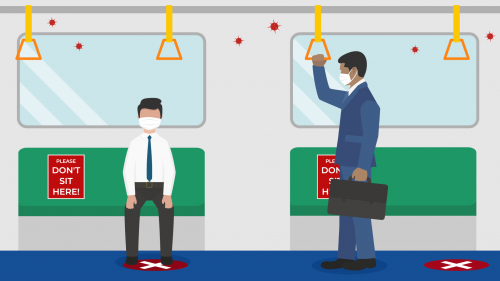 The COVID-19 pandemic has shaken up employment at the national, state and county levels, and now a nearly $200,000 award from the National Science Foundation will fund University of Maryland research to understand the scope of change by examining shifts in our commutes and other work-related travel.
Over the next year, researchers in the College of Behavioral and Social Sciences and A. James Clark School of Engineering will analyze daily, detailed, real-time GPS data from cell phone users that will allow them to compare work mobility before and after the coronavirus crisis. The data will reveal whether people are traveling to work, the locations to which they are traveling and the types of businesses where they are working.
"We will use these data to construct a comprehensive picture of how the pandemic is restructuring jobs and businesses, as well as to investigate how different policies are affecting economic recovery," said Katharine Abraham, a professor of economics serving as one of the project's principal investigators.
The analysis will include GPS data from roughly 100 million daily trips compiled on an ongoing basis by the Clark School's Maryland Transportation Institute. Using these data together with supplementary information from other sources, researchers will be able to address questions such as how frequently people who lose their jobs at bricks-and-mortar offices find work either at other locations or in delivery jobs.
"Not only will we be able to measure how the pandemic has affected the number of work trips overall, but we can assess changes in employment at all levels and across different sectors," said Sepehr Ghader, Maryland Transportation Institute assistant director and another principal investigator.
The grant is part of the NSF Rapid Response program, established to support non-medical research related to understanding and responding to the COVID-19 pandemic.
UMD's project will combine expertise on economic activity and human behavior with data infrastructure and analysis to produce important insights that will help guide policy as the country recovers from the crisis, the researchers said. Distinguished University Professor of Economics John Haltiwanger and Professor of Economics Erkut Ozbay will also serve as lead investigators for the study.  
July 9, 2020
Prev
Next
---