University of Maryland 2013 Holiday Greeting
University of Maryland 2013 Holiday Greeting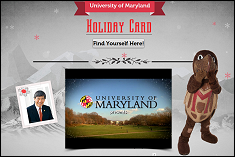 A Message From Dr. Loh...
"Dear University of Maryland family:
This is the season of the year to recognize and thank all of our faculty, students, staff, alumni, and friends.  Who you are, and what you do, are what makes the University of Maryland outstanding in education, research, arts, public service, and athletics.
This year, I would like to especially thank all our hardworking staff.  From facilities management to housekeeping to student services, from university relations to campus police to information technology, they are the engine that keeps this University moving forward.
This year's holiday video features Testudo.  To view it, click on the link www.holidaygreeting.umd.edu.  
Please forward it to friends, family and colleagues so that they might share in the festive Terrapin spirit."
December 16, 2013
Prev
Next