University of Maryland and Lockheed Martin Renew Strategic Partnership with New Agreements
University of Maryland and Lockheed Martin Renew Strategic Partnership with New Agreements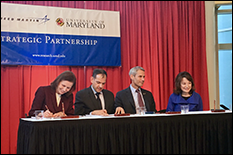 The University of Maryland and Lockheed Martin, a global aerospace and security company, today signed a pair of agreements to enhance their enduring partnership focused on fostering innovation and sustainability in the aerospace and security sectors through academic collaboration and cutting-edge research.

The renewed Strategic Partnership Memorandum of Understanding (MOU), first signed in 2010, ensures the continued alignment of the research and workforce development priorities to be pursued by the two organizations. The MOU enables the University of Maryland and Lockheed Martin to jointly pursue new strategic business opportunities and support student recruiting and professional development initiatives. In addition, the MOU provides a framework for establishing joint centers like the University of Maryland – Lockheed Martin Center for Logistics Collaboration (CLC), which has developed a sustained research and analysis capability in the area of complex system life-cycle support. 
The refinement of a collaborative Master Research Agreement (MRA), first signed in 2012, fosters a new chapter in Lockheed Martin's longstanding partnership with the university. Under the MRA, the University of Maryland can continue developing useful and usable solutions to challenges posed by the industry without the need to renegotiate agreement terms for each collaborative research engagement. The MRA governs new research projects supporting advanced research focus areas in autonomy and robotics, directed energy, human performance and sensing data analytics, artificial intelligence, quantum information science and others.
"The core of our partnership is research aimed at addressing our Nation's most pressing security needs," said Laurie Locascio, UMD vice president for research. "We look forward to our continued collaboration and opportunities for our exceptional faculty and students to pursue new frontiers in research."  
These agreements strengthen Lockheed Martin's diverse engagement across the University of Maryland campus with the A. James Clark School of Engineering, the College of Computer, Mathematical, and Natural Sciences, the School of Public Policy, the Robert Smith H. School of Business, the College of Behavioral and Social Sciences, and the School of Public Health.
"Lockheed Martin has a deep and rich history working with the University of Maryland to develop transformational research that will aid in developing world-class security solutions," said Robie Samanta Roy, Ph.D., vice president of Technology Strategy and Innovation, Lockheed Martin. "The university has an amazing breadth of talent and research interests that are relevant to Lockheed Martin's innovation focus areas and we are pleased to work together to build a more secure future."
For more than seven decades, Lockheed Martin and its heritage companies have funded scholarships, student organizations and faculty awards, including various student programs and initiatives in the A. James Clark School of Engineering.
"The recent addition of Sikorsky to the company's portfolio brought two of our closest corporate partners together," said Darryll J. Pines, Farvardin Professor and dean of the A. James Clark School of Engineering. ""We are grateful for Lockheed Martin's steadfast support of Maryland's engineering education and research programs over more than 70 years."
For more information about University of Maryland – Lockheed Martin initiatives, please visit: research.umd.edu/lm. 
January 19, 2018
Prev
Next
Did You Know
UMD is the only major public research university inside the Washington, DC beltway!!