Urban Clean Air Policies in China Shift Pollution to Other Areas
Urban Clean Air Policies in China Shift Pollution to Other Areas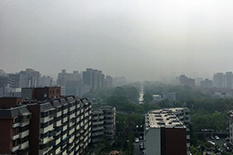 University of Maryland-supported research finds that as China enacts ambitious pollution control policies to improve air quality in urban areas, these measures may be just transferring pollution problems to less developed regions of the country.
A global team of researchers used computer models of interregional trade and chemical flows in the atmosphere to simulate clean air policy scenarios in the urban Beijing-Tianjin-Hebei region—home to more than 100 million people—and to evaluate the environmental impacts and spillover effects elsewhere in China.
Their results, recently published in Science Advances, found that reducing fine particle and carbon dioxide emissions as well as cutting water consumption in the urban region caused negative environmental impacts in neighboring provinces. This was due largely to the outsourcing of production and energy generation, the researchers said, pointing to the decision to close many coal power plants around Beijing and import electricity from surrounding regions where policy restrictions are more lenient.
"Our intention is certainly not to blame or discourage environmental policies designed to reduce air pollution," said Kuishuang Feng, an associate research professor in the Department of Geographical Sciences and corresponding author on the study. "However, without considering the unintended side effects of isolated environmental policies, these might backfire and lead to an increase in environmental problems in other regions as well as an overall increase in pollution nationwide."
Researchers say spillover effects related to environmental policy are largely ignored because authorities at various levels of government—local, regional and national—are concerned with and manage environmental issues separately. The team plans to continue its work in other regions of China to help policymakers take these environmental chain reactions into account.
Besides UMD, the research team included scientists from Beijing Normal University and Peking University in China, the University of Groningen in the Netherlands and Masaryk University in the Czech Republic.
This article originally appeared on UMD Right Now.
April 29, 2019
Prev
Next
Did You Know
UMD is the only major public research university inside the Washington, DC beltway!!