30 Days of EnTERPreneurship Showcases Innovation at UMD
30 Days of EnTERPreneurship Showcases Innovation at UMD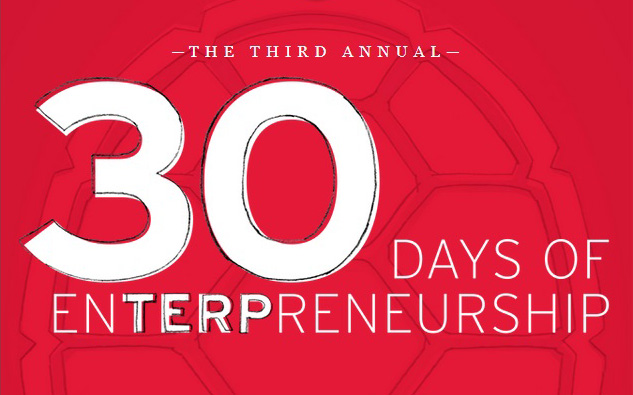 The University of Maryland kicked off today its third annual 30 Days of EnTERPreneurship, a month-long celebration of the university's fearless ideas, innovation and impact.
"The University of Maryland has long been a pioneer in entrepreneurship and a leader in research and academic innovation. And in recent years, the university has put even greater, campus-wide emphasis on preparing faculty, students and staff to tackle the world's toughest problems through innovation and entrepreneurship. Our '30 Days of EnTERPreneurship' highlights and celebrates that commitment across all schools," says Dean Chang, UMD's associate vice president for innovation and entrepreneurship.
This year's showcase of events, lectures and contests begins today with the 3rd annual ACC Clean Energy Challenge, part of the Startup America Initiative that supports and empowers the next generation of American entrepreneurs. This $100,000 university green technology business competition is led by UMD in partnership with the U.S. Department of Energy.
For the ninth year, Under Armour Founder and CEO Kevin Plank '96, will partner with UMD to host Cupid's Cup on April 4. This nationwide student competition awards $115,000 in prize money to the country's top student entrepreneurs, and brings together hundreds of students, faculty, staff and entrepreneurs from various industries.
30 Days of EnTERPreneurship continues on April 26 with Maryland Day – the university's campus-wide celebration of innovation, creativity and academic excellence. The 16th annual open house attracts more than 100,000 alumni, students and community members to more than 450 family-friendly events and exhibits that teach and inspire future innovators.
On April 29, UMD students will compete to make the greatest social impact for causes in the annual Do Good Challenge. Finalists can earn up to $5,000 for their cause, as well as other prizes, such as in-kind consulting, to further advance their cause. This year's judges include sports agent David Falk, and former NFL quarterback and current CBS Sports analyst Norman Julius "Boomer" Esiason '84.
30 Days of EnTERPreneurship also includes:
•Whiting-Turner Lecture: Michael Chasen, co-founder and CEO of SocialRadar and former CEO and co-founder of Blackboard, will offer advice and inspiration. (April 3)
•Chesapeake Regional FIRST Robotics Competition: More than 1,000 high school students from around the country will compete in a robotics competition. (April 3-5)
•Bitcamp Hackathon: A 36-hour creative coding marathon challenges hundreds of students from across the country to work in teams to turn ideas into innovations. (April 4-6)
•Public Health Research@Maryland: National experts will discuss important public health issues, such as health care access, HIV/AIDS, physical activity promotion, cancer prevention and tobacco control. (April 8)
•Grand Opening Celebration of the Physical Sciences Complex: The university will celebrate the new, 160,000-square-foot building that features a creative design and high-tech labs. (April 23)
•Whiting-Turner Lecture: Abdur Chowdhury, co-founder and CEO of Pushd, co-founder of Alta Vista School and former chief scientist of Twitter, will share his experiences and insights. (April 24)
•Celebration of Innovation and Invention of the Year Awards: UMD will honor innovations and inventions developed by university researchers and students. (April 29)
UMD prides itself as a pioneer in educating the next generation of innovators and entrepreneurs, ranked as one of the nation's top public schools in the U.S. for entrepreneurship and innovation. The Princeton Review ranked UMD No. 6 among public universities and No. 15 overall for its undergraduate entrepreneurship program, and No. 8 among public universities and No. 16 overall for its graduate entrepreneurship program. The university was also recognized as No. 1 among public universities and No. 2 overall for tech entrepreneurship by the 2013 StartEngine College Index.
Visit www.umd.edu/30days to learn more about these and other special events. Follow the coverage of the events by tracking #30DaysTerps on social.
March 26, 2014
Prev
Next
Did You Know
UMD is the only major public research university inside the Washington, DC beltway!!