Brian O'Neill Named New Director for the Joint Global Change Research Institute
Brian O'Neill Named New Director for the Joint Global Change Research Institute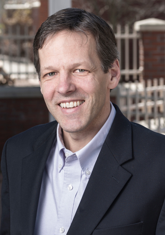 COLLEGE PARK, Md. – Brian O'Neill – an Earth systems scientist who studies the relationship between future societal development, emissions and climate change impacts – has been named the new director of the Joint Global Change Research Institute (JGCRI).
The institute is a partnership between the U.S. Department of Energy's Pacific Northwest National Laboratory and the University of Maryland in College Park, Md. It brings together expertise in research, modeling and analysis to advance scientific understanding of the ways in which human, energy and environmental systems interact. Since its formation, JGCRI has provided input to the White House, Congress, United Nations and other national and international governing and advising bodies.
O'Neill will begin his appointment Oct. 5.
"PNNL is excited to have Dr. O'Neill - a talented scientific leader in human-Earth systems – join us as our new director of the Joint Global Change Research Institute," said Malin Young, PNNL's associated laboratory director for Earth and Biological Sciences. "His technical expertise will enable the JGCRI team to better understand the implications of major changes in both human and natural systems that we face in the coming decades."
O'Neill is currently a professor at the University of Denver's Josef Korbel School of International Studies, and serves as director of research at the Korbel School's Pardee Center for International Futures, also at the University of Denver.
From 2008 to 2018, O'Neill was a scientist at the National Center for Atmospheric Research (NCAR) in Boulder, Colo. At NCAR, O'Neill led research groups on integrated assessment modeling and on climate and human systems.
Prior to NCAR, O'Neill worked six years at the International Institute for Applied Systems Analysis in Laxenburg, Austria, where he led the Population and Climate Change Program and co-led the institute's Greenhouse Gas Initiative.
O'Neill has been a lead author for several Intergovernmental Panel on Climate Change reports. 
"JGCRI is well-known for its work studying energy, water, land and climate interactions," said O'Neill. "I'm looking forward to building on JGCRI's strengths by examining how those systems interact with humans and society, what risks we face, and what opportunities there are to improve resilience." 
"Dr. O'Neill's leadership and experience will greatly benefit JGCRI," said University of Maryland Vice President for Research Laurie Locascio. "His expertise and understanding of human-environment interactions will help advance the institute and expand the impact of its research contributions."
O'Neill earned a doctorate in Earth systems science and a master's degree in applied science from New York University. He completed his undergraduate work at the University of Delaware, earning a bachelor's degree in English and journalism.
He has authored or co-authored more than 100 peer-reviewed scientific and technical papers, and journal articles.
=================
The University of Maryland, College Park is one of the nation's preeminent public research universities and Maryland's flagship university. A global leader in research, entrepreneurship and innovation, the university is home to more than 41,000 students, 14,000 faculty and staff, and 280 academic programs. UMD's faculty include two Nobel laureates, three Pulitzer Prize winners, 60 members of the national academies and scores of Fulbright scholars. For more information about the University of Maryland, College Park, visit www.umd.edu.
Pacific Northwest National Laboratory draws on signature capabilities in chemistry, Earth sciences, and data analytics to advance scientific discovery and create solutions to the nation's toughest challenges in energy resiliency and national security. Founded in 1965, PNNL is operated by Battelle for the U.S. Department of Energy's Office of Science. DOE's Office of Science is the single largest supporter of basic research in the physical sciences in the United States and is working to address some of the most pressing challenges of our time. For more information, visit PNNL's News Center. Follow us on Facebook, Instagram, LinkedIn and Twitter.
September 22, 2020
Prev
Next
---
Did You Know
UMD is the only major public research university inside the Washington, DC beltway!!