Cyber Symposium to Look at Infiltration, Criminology and More
Cyber Symposium to Look at Infiltration, Criminology and More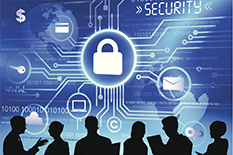 Cybersecurity experts say that in order to take down cybercriminals, one has to better understand how they think and how they stand to profit from their online criminal behavior.

This topic, and much more, is on the agenda at a major cybersecurity symposium set for June 10 at the Samuel Riggs IV Alumni Center at the University of Maryland.
The 3rd Annual Maryland Cybersecurity Center (MC2) Symposium features a keynote address on the financial incentives that drive cyberthieves, as well as numerous tutorials given by faculty researchers in MC2, which is coordinating the event.
"Hosting the symposium gives us a way to share our research successes and cybersecurity expertise with a broad community of people from academia, industry and government," says Jonathan Katz, director of MC2. "It also provides an opportunity for cybersecurity leaders from the region to meet each other and discuss common concerns and effective mitigation tactics."
The keynote address is by Vern Paxson, a professor of electrical engineering and computer sciences at the University of California, Berkeley. Paxson will discuss how cybercriminals are mostly motivated by financial profit, and how this can drive them to communicate with people online that they don't know. This, in turn, provides an opening for cyber experts to interact with these criminals and learn about their motives and their activities.
Paxson, who has appointments at the Lawrence Berkeley National Laboratory and the International Computer Science Institute, will discuss his research in network-based attacks and defenses, as well as how he has successfully infiltrated several cybercriminal enterprises.
The symposium also features talks from MC2 faculty about their research, and tutorials on current topics of interest. These include:
• David Maimon, an assistant professor of criminology, will address the use and effectiveness of sociological, psychological and criminological models for cyber crime research. He will also present findings from a series of studies he conducted in which he used "honeypots"—computers designed to lure in hackers—to monitor the hackers' actions after breaking in to the system.
• Martin Loeb, a professor in the Robert H. Smith School of Business and a Deloitte & Touche Faculty Fellow, will identify tactics for defining the true costs of a cybersecurity breach, as well as explaining the effectiveness of an assessment tool he co-developed—the Gordon-Loeb model—which helps companies and other organizations determine how much to spend on cybersecurity safeguards.
For more information cybersecurity symposium or to register, go to http://www.cyber.umd.edu/events/symposium.
The Maryland Cybersecurity Center is supported by the College of Computer, Mathematical and Natural Sciences and the A. James Clark School of Engineering. It is one of 16 centers and laboratories in the University of Maryland Institute for Advanced Computer Studies (UMIACS).
May 16, 2014
Prev
Next