Dr. Puett's Research Examines How Exercising Outdoors or Indoors Influences Mental and Physical Wellbeing
Dr. Puett's Research Examines How Exercising Outdoors or Indoors Influences Mental and Physical Wellbeing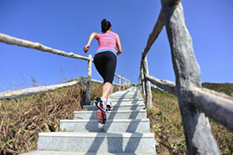 Does exercising in an outdoor or indoor environment – or both – affect tension, stress, emotional outlook, or perception of health? A study led by Dr. Robin Puett, associate professor in the Maryland Institute for Applied Environmental Health, examined how the physical activity environment related to physical and mental wellbeing.
Published in the Journal of Physical Activity & Health, this was one of the largest U.S. studies conducted on the relationship between exercise environment and wellbeing. The study concluded that people who exercised partially or entirely outdoors exercised more and that:
•People who exercised both outdoors and indoors had the highest perception of their health, with those who only exercised indoors having the lowest perception of their health.
•For women, exercising both outdoors and indoors was associated with a better emotional outlook.
•For people with high activity levels, combined and outdoor exercise environments protect against tension and stress, as well as poor emotional outlook and perception of health.
•For people with low activity levels, only exercising indoors was better for tension, stress management, emotional outlook, and overall perception of health.
"Our study suggests that exercising outdoors, whether alone or combined with indoor physical activity, may be linked to better self-perception of health and emotional outlook, as well as reduced tension, for women and more active adults," Dr. Puett said.
Dr. Puett added that more research was needed to understand why the results differed between genders and activity levels, as well as whether these findings would be similar in more diverse populations and over longer time periods.
For this study, Dr. Puett and co-researchers used existing cross-sectional data on routine, self-selected physical activity from the large-scale Aerobics Center Longitudinal Study. Data from 11,649 participants—of whom 54 percent exercised outdoors, 18 percent exercised indoors, and 28 percent exercised in both environments—included questionnaires and clinical evaluations. Participants included men and women more than 20 years of age, with the vast majority Caucasian and college graduates.
Relative to inactivity, exercise indoors, outdoors, or in both environments was linked to increased wellbeing for participants.
Related Articles:
Campus boosts support for Open Access Publishing Fund
Disease Diagnostic Group Wins UMD's Cupid's Cup
UMD Transplant Organ Flight Named Invention of the Year
Envisioning the Future of Urban Transportation
4D Bioprinting Smart Constructs for the Heart
Advancing Healthcare through Robotics and Machine Learning
UMD Researchers Develop Technique to Advance Cell-Based Systems
Jewell Lab Awarded Two NIH R01 Bioengineering Research Grants
Helping robots remember
Reversible Chemistry Clears Path for Safer Batteries
November 10, 2014
Prev
Next